Men's Soccer defeats Oakland in Summit League opener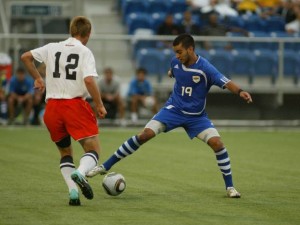 The UMKC men's soccer team started its Summit League conference season with a 1-0 victory over bitter rival Oakland on Saturday night. The Roos (4-4-1) deafeated the Grizzlies (2-7-1, including 0-2 in Summit League play) in a physical encounter which was eventually decided through an own goal by Grizzlie center-back Konner McNamara. The Roos are now on a five-game unbeaten streak and are tied for first place in the Summit League alongside IPFW and Western Illinois.
The game was a cagey affair as neither the Roos, nor the Grizzlies, allowed any real scoring chances in the first half as they headed into the halftime interval tied at 0-0. The second half proved to be more open and both teams found space in the latter third of the field as the game wore on. Roo goalkeeper Kyle Martin was up to the task and recorded two saves on the night and his second shutout of the season. On the attacking front, the Roos had ten shots on goal with freshman forward Jordan Rideout producing four, while strike partner David Sarabia recorded two shots.
The breakthrough came in the 80th minute via an error in the Oakland defense. Forward Frankie Washington found himself wide on the left wing and put in a centered cross which Grizzlie defender McNamara headed into his own net to give UMKC a 1-0 lead. Oakland never recovered in the final minutes and the Roos effectively ran the clock down and assured their first Summit League victory of the season in front of a large crowd to cap off the UMKC Homecoming weekend.
The Roos will now hit the road for Indianapolis. for a contest with Summit League opponent IUPUI on Saturday Oct. 8.