Lady Roos make school history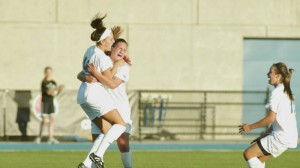 The UMKC women's soccer team collected its first victory in the Summit League since 2009 after defeating IUPUI 2-1 in overtime on Friday night. The win was also the first time the team recorded back-to-back victories in school history after goals from Zaina Mayer and freshman Cecilee Burge.
The Roos (1-0-0) matched up against the Jaguars (0-1-0) in a well contested game in front of the Durwood crowd on Homecoming weekend. The Jaguars took a one-goal lead going into the halftime break, after senior forward Megan Hock hit the back of the Roo net in the 10th minute off an assist by teammate Alicia Brock. However, after Hock's strike, UMKC junior goalkeeper Jami Finnell shut the Jaguars out, tallying six saves in the contest. The second half was met with increased intensity by the home side and urged on by the crowd, the Roos created numerous scoring chances. Sophomore forward Taylor Bare was fouled inside the penalty area after rounding three Jaguars defenders and junior midfielder Zaina Mayer calmly rolled home the resulting penalty shot to draw the Roos level in the 58th minute. With the game tied at 1-1, the teams headed to overtime. The game-winning goal, however, was not far away as freshman forward Cecilee Burdge capitalized on an IUPUI defensive lapse and finished with ease past the Jaguar goalkeeper in the 94th minute.
The Roos will now hit the road for games against Summit League foes IPFW (Oct. 7) and Oakland (Oct. 9) as they look to extend their unbeaten record in the conference.