Students share Latin culture and food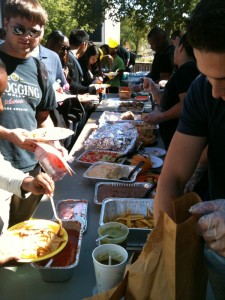 Last Friday, Sept. 30, was Latin Food Friday, a part of Homecoming Week. Approximately 100 students were in attendance between 12 and 2 p.m.
The event, sponsored by Muticultural Student Affairs, the Association of Latin American Students, and Lamda Theta Phi, featured food, dancing, and a cultural get-to-know-you game.
The food included beef gorditas, pork tamales, vegetable tamales, chicken taquitos, rice, refried beans, plantain chips, and tortilla chips.
A disc jockey was there, along with teachers hired to share their skills in the dance styles of salsa and bachata.
The Latino get-to-know-you game consisted of cultural questions students asked one another. A student who knew the answer to a question would sign the paper, and five signatures earned a raffle ticket. The raffle prizes included UMKC bags donated by the Office of Student Involvement, as well as stress balls donated by the Mind-Body Connection.
Latin Food Friday was held in celebration of Latino Heritage Month, which occurs between Sept. 15 and Oct. 15, as recognition for the contributions of Latino and Hispanic Americans and in celebration of their heritage and culture.