Students showcase their talents during Homecoming Week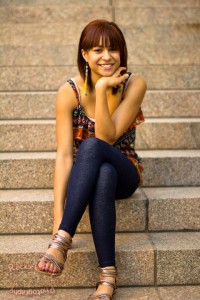 It was standing room only in the theater of the new Student Union last Thursday night, as UMKC's annual version of "America's Got Talent," "The X Factor," "American Idol," etc., kept the Homecoming Week festivities rolling.
The Student Talent Show, put on by the university's Activity & Program Council (APC), was a free event, and packed in a large freshman contingent of rowdy students ready for a show.
After some initial technical difficulties, and backing-track false starts, last year's first place winner opened the competition with a strong vocal performance by Dylan Burd. His unique style and confident stage presence set the tone for the evening's competitors.
In the following two hours, students were treated to a myriad of acts, ranging from interpretive dance to unaccompanied piano recitals.
"The talent show is one of our few traditions that is very established, where people always come out and pack the house," event coordinator Krystina Minor said.
"I have people begging me to be in this show. It's something that everyone talks about, and looks forward to all year long. We just want to make sure it is a tradition that continues for years to come."
Judging by the turnout, the APC won't have to worry about this event fading into obscurity any time soon. A panel of five judges from the Office of Student Involvement presided over the evening's events, and had the unenviable task of deciding between the talented acts.
Zach Hinton and Amra Suljic provided emcee duties, tossing out free swag, and at one point incited a handful of students to bum-rush the stage for a faux dance-off competition. The two played off each other well, and served up much-appreciated comic relief throughout the evening.
Audience participation was in full effect as one of the show's more popular acts (especially with the ladies) – Gino Washington – elicited a theater-wide sing-a-long by playing a medley of R&B songs on the house keyboard.
"My favorite act was Gino on the piano. I definitely think he should have gotten first place," freshman Areiona Garrett said after the show.
The judges, however, awarded the coveted first-place prize to dynamite-voiced Mimi Dean who brought the house down with her reading of Beyonce's 1+1. Second place went to Mr. Lopez, and third place went to the dance tandem of Sandra Dupree and Bianca James.