Stories told through Quilts on the Quad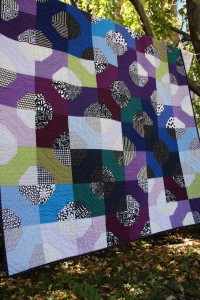 Last Saturday marked the Women's Center's 40th Anniversary. Throughout the day, the quad was filled with quilts of many sizes and colors hanging between the trees and even draped over the rocks of the quad's popular stone fountain.
The Women's Center hosted Quilts on the Quad, featuring an outdoor art installation of more than 200 quilts created by local quilt artists from the Kansas City Modern Quilt Guild. Some quilts were on sale and some were just to be admired. Each quilt had a description or story from the artist. Students and people from the community came to UMKC's quad to look through the unique quilts in the relaxed and tranquil setting.
The Women's Center, in celebration their of its 40th anniversary, has an additional quilt project of its own in the works.
Nedra Bonds, a Women's Center volunteer and local textile artist, conducted quilt workshops over the summer to teach people the art of quilting, so people could themselves tell a story of their own through a quilt.
"The Women's Center asked me to make a quilt, but that would be my quilt. It needs to be a community quilt," Bonds said. Maritza Gordillo, a student assistant for the Women's Center, attended a workshop Bonds held over the summer. "[Bonds] really pushed our creativity and it is for a good cause," Gordillo said.
Since March, student and community members have been asked to make a 12-inch square quilt to describe a story, experience or image regarding a women's issue such as violence or inequality. There have been more than 200 quilt squares submitted by UMKC students and surrounding community members. "Even men made squares," Gordillo said.
The final project will be unveiled by Bonds at a quilt dedication at the Kauffman Center for the Performing Arts on Nov. 8. The squares won't be sewn together. They will be clipped, so the quilts can travel and be hung throughout the Women's Center in honor of the anniversary.
Meanwhile the Women's Center was hosting an open house to let people get to know the center, staff and history and to enjoy a cup of custom blend coffee created for the 40th Anniversary by the Roasterie.
For more information on the Women's Center and many events they have planned for their 40th anniversary, visit www.umkc.edu/womenc.