Kidney Walk brings attention to kidney disease and organ donation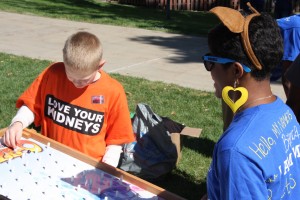 Last Saturday, UMKC hosted The National Kidney Foundation 2011 Kidney Walk, "the official walk of the UMKC homecoming." This is the second year the event has been at UMKC and the first year it has happened at the end of Homecoming week.
"Usually the walk happens later in October but we moved it up a couple weeks," said Jennifer Furla, the Kidney Walk Coordinator for the National Kidney Foundation.
The National Kidney Foundation Kidney Walk is a fun, inspiring community fundraiser that calls attention to the prevention of kidney disease and the need for organ donation. It's also an opportunity for patients, family, friends and businesses to come together.
According to the National Kidney Foundation website, "Over 26 million Americans – that's 1 in 9 adults – have chronic kidney disease, and most are not aware of it. Because symptoms may not appear until the kidneys are actually failing, millions of people with kidney damage remain unaware and are not taking steps to protect the health of their kidneys."
A lot of spirit, excitement and involvement arose from closely relating Homecoming and the Kidney Walk. "Having partnered with UMKC helped with the turnout," Furla said. "The walkers then stayed for the festival atmosphere."
Along the University walkway were booths promoting Communiversity classes and along 51st Street was an array of food trucks. There were also plenty of carnival-type games for children and even a live cover band.
Since the event tied into the spirit of UMKC's Homecoming, students stepped in to participate more than ever. "The UMKC Pre-Med Society team was awarded 'Best New Rookie' this year because of the remarkable $900 donation they raised in just a week," Furla said. Many other community groups were involved, such as local high school student councils, businesses, and, of course, supportive families and community members.
"There is a lot more activities and venues this year. I like having it here at UMKC," said community member Stacey Thomas. He and 60 of his friends and family members walked together as a team to honor his cousin, who has kidney disease.