Light up the night at P&L
For readers 21 years or older who are looking for something to do on a Friday or Saturday, going to the P & L district might be the best option. One might wonder which are the best places are to eat and drink. There are many things to look at when trying to decide. Things like price, customer service, drink specials, and atmosphere of the joint. P&L has become infamous for rude service and douchebag patrons; in many instances this is true. I have witnessed this on many nights at the various bars and clubs at P&L. However, it is not hard to avoid the douchebag bartenders and partiers. My suggestion would be to go to the more laid-back establishments.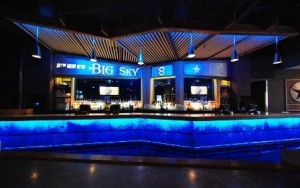 Best place to drink
There are a total of nine bars and clubs for one to enjoy a nice strong drink to let loose after a long week of work, school and other priorities. Each bar has its own theme, drink specials and cover rates. Going to some clubs before 10 p.m. will save you $5 at the door and gains you a free entry all night with a stamp. Be sure to arrive before 11 p.m. or else you wind up paying $10 entry fee at the Kansas City Live gate.
The best place to drink would be PBR Big Sky. Located on the second level of P&L, PBR is reminiscent of a cattle barn complete with a mechanical bull in the center. PBR offers reasonable drink prices, compared to the already expensive P&L costs. It's also a plus to have bartenders who know how to make a drink and not skimp on the amount of alcohol. The atmosphere of PBR is quite entertaining, with country music coming from the speakers and a dance floor perfect for square dancing and high kicks to "Cotton-Eyed Joe."

Best place to eat
Once the night winds down, and the buzz wears off, the hunger sets in. The most difficult decision you will make all evening is where to eat. With more than 21 restaurants in P&L, there is no better option than Pizza Bar, located on the first level of P&L. Pizza Bar, as the name suggests, is a bar that serves pizza. Divided in half, the bar has a pizza bar on one side and a liquor bar on the other. Pizza Bar sells pizza by the slice, or whole. Each slice, a very large slice I might add, costs on average $3.50 with options like cheese, pepperoni, sausage, the works and veggie. You can also buy a whole pizza for around $20.
For more information about the Power and Light District and where to eat and drink go to www.powerandlightdistrict.com.