Tranquility rather than twang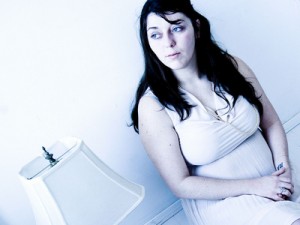 The aspects of country music never appealed to me. The guitar's twangs are often too repetitive and raucous for the ear, but Terra Lightfoot was kind enough to incorporate folk-sounding guitar/borderline country twang into track one, "Straight Line." The guitar is sincerely charming, resembling City and Colour's folk-sounding songs (minus the harmonica), or "Ten Cent Blues" by Eisley, which mildly integrates a country twang to showcase their musical diversity. This can integrate even the most defiant country listener into a more tolerable section of the genre, even though it sounds more like evolved folk music than country.
But as the album progresses to track two, "The Orchard" moves away from country roots and employs a peaceful violin line amongst the sultry vocals. The vocalist is a solid mix-up between a female, less-strident version of Conor Oberst meshed with Dallas Green of City and Colour, lulling any listener onward into passion. Each song progresses beautifully, intriguing the listener to conclude the track, and certainly causing a swell of emotions against the ribcage.
However, track four, "Quieter," reverts back into typical country tendencies. It begins with a stab of tasteful country twangs, but is not as instrumentally or vocally advanced as the other tracks. It is understandably more uplifting than the previous track, "Sleep Away The Winter."
Track five, "Heads, Tails, Tails," displays Terra Lightfoot's high-registered vocals, which are beautiful, to say the least. Her voice is incredibly impressive and hardly strained, which is applicable in every track. "Heads, Tails, Tails," however, remains almost strictly in the higher register, which is not characteristic of her other songs.
After taking a stroll through Terra Lightfoot's album, it becomes obvious that her vocals are always impressive and never annoying. Her music is extremely polished; everything fits hand in hand, from the guitars to the gentle drums. She spans across several musical genres, which shows her versatility as a musician. The ability to perform exceptionally despite the genre is a characteristic of true musicians. Not a single song sounds the same, so the listener will not be sucked into monotony.
Despite my predisposed dislike of country, Terra Lightfoot's album receives four of five stars. Not every song is country, and because the twang is not severe, it transitioned me into acceptance of the genre. Her vocals are strong in any register, and she deserves recognition for the polished album she's created.