Walk a Mile in Her Shoes: Men raise awareness of violence against women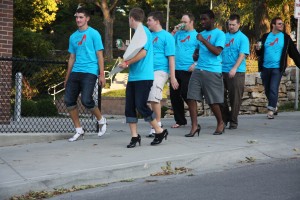 The unusual combination of burly legs and glittery high heels was a sight on campus last Thursday.
As part of the 10th annual Walk a Mile in Her Shoes, more than 100 men gathered outside the University Playhouse to raise awareness for violence against women, and, as the event implies, walked a mile wearing women's shoes.
Registration fees ranged from $15 for students who brought their own (or someone else's) shoes, to $50 for non-students who wore shoes provided by the Women's Center, which organized the event.
Proceeds benefited the Kansas City Anti-Violence Project and the Women's Center's Violence Prevention and Response Project, which provides anti-violence education and resources to the community and support services to victims of sexual assault.
The Women's Center uses the annual event to put men in women's shoes and to help them empathize with female experiences, improve gender relations and reduce gender violence.
Informational tables and posters with messages like "Got consent?" were displayed at the event to raise awareness for issues affecting women, specifically violence and sexual assault.
The blue T-shirts worn by participants featured a bright red high heel and the words "Put yourself in her shoes."
The shoes worn at the event ranged from flats to stilettos.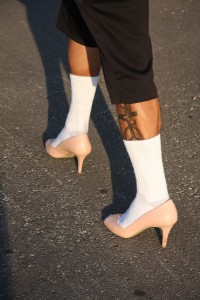 Robert Greim, Manager of Compliance for Athletics, played a crucial role in planning and organizing the event. Greim is also co-chair of the V-Men committee, which works closely with the Women's Center's anti-violence outreach.
"By taking part of this event you all prove that the UMKC community and Kansas City community truly care about the dignity, the rights and the safety of women," Greim said at the event kickoff.
Following the kickoff and cookout, the mile-long walk began at 6:45 p.m., led by Athletic Director Tim Hall.
Despite the difficulty of walking in high heels, some men decided to run. Others held hands and formed a human chain to maintain their balance.
The pain and discomfort some experienced from the walk were symbolic of the unique struggles women have faced because of violence and gender discrimination.
The first-place finish was flaunted by students Caleb-Michael Files and Daniel Baker, who gaited past the finish line together while holding hands.
Files, who is a Social Justice Coordinator for LGBT & Women's Issues, praised the diverse group of participants.
"It makes a change, especially here at UMKC showing that your top basketball player or your head coach of your soccer team can come out here and do this on high heels and took a couple hours out of their lives to show their support and their solidarity," Files said.
Baker expressed similar views.
"It allows us whenever we are out there walking and running to think about everything that happens and how we can actually change things," Baker said.
Women's Center Director Brenda Bethman said Walk a Mile in Her Shoes is a fun way to engage male participants while raising awareness.
"Walk a mile in her shoes comes from the angle that you don't understand somebody until you walk one mile in her shoes," Bethman said. "That was why it started, to raise awareness in a fun way but with a serious undertone."