Prohibition: Kansas City style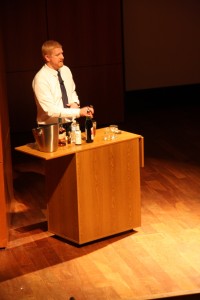 On Sept. 23, The National World War I museum hosted "Doughboys and Bootleggers: Exploring Prohibition in Post-WWI Kansas City."
At the beginning of the evening, guests mingled while sipping punch that incorporated elements of the drinking scenes from both the pre-Prohibition and prohibition era.
Ryan Maybee, owner of the Rieger Hotel Grill and Exchange and the modern "speakeasy" Manifesto, located in the hotel's basement, was the bartender at the event, serving a throw back alchoholic punch, was made from Canadian whiskey, fresh pineapple soaked in lemon zest and sugar, with fresh-squeezed lemon juice and an August stir of bitters. The Canadian whiskey was used to show the influence of Prohibition, as one of the easiest hard liquors for bootleggers to smuggle.
The event opened with a preview of "Prohibition," a documentary series by Lynn Novick and Academy award-winning documentarian Ken Burns that will air on KCPT in October.
Guests were shown excerpts from episodes one and two which addressing the social influences and context that helped bring about Prohibition. Xenophobia helped to strengthen the cause, as did racism.
After the clips ended, speaker Assistant Professor Dr. Matthew Osborn, of the history department, took the stage. Osborn recently published the book "Rum Maniacs: Alcohol Abuse and the American Republic of Medicine."
Osborn focused on how Kansas City reacted to the Prohibition, which was to blatant ignore.
Kansas passed Prohibition laws in the late 1800s, whereas Missouri was the second-to-last state to pass such laws. Voter initiatives that supported Prohibition were defeated multiple times. These voter initiatives were a way for Missourians to break away from political parties which, in Kansas City at the time, were filled with corruption.
According to Osborn, the reason Kansas City kept Prohibition laws at bay for so long was due mostly to Tom Pendergast's corrupt political machine. He was the head of one of the most notorious Democratic Parties and was known for intoxicating immigrants and taking them to the polls to vote for the Democrat candidate.
When Prohibition hit Kansas City, there was very little change in the night scene. Pendergast, through his considerable contacts with criminals, police and city hall, kept the speakeasies flourishing. He was involved in a black market bootlegging operation, and exerted his considerable influence to allow drinking to continue in Kansas City.
According to Osburn there was a store that openly sold liquor a few blocks down from the police station. Police would round up people after raiding a speakeasy and then let them go. Through the Prohibition there were never any alcohol-related felony arrests in Kansas City. Pendergast made sure no one enforced the laws regulating closing times, and allowed speakeasies to stay open all night. The night scene, especially around 18th and Vine, thrived during Prohibition.
In 1933, Prohibition ended, making very little difference to Kansas City, which ignored it the entire time.
The evening ended with Maybee demonstrating how to make a cocktail named afters Pendergast, appropriately made only with strong liquor.