Lady Roos on the upswing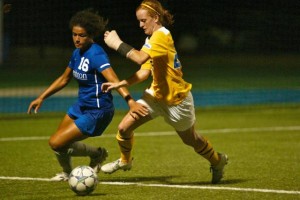 The women's soccer team won its first home game of the season 2-1 against the University of Nebraska-Omaha on Saturday at Durwood Stadium. This improved the Lady Roos' season tally to 2-5-3.
Both goals were scored by sophomore forward Taylor Bare. Her first goal was assisted by Randi Simmons in the 36th minute, and her second goal was assisted by sophomore midfielder Ashley Gann during the second half.
Saturday's victory helped reinvigorate the team, which suffered a 3-0 loss to the University of Missouri- Columbia last Sunday.
However, the MU game is credited with raising the expectations for the remainder of the season.
For the first time this season, the Lady Roos held the opposing team scoreless during the first half.
Junior Goalkepper Jami Finnell led the Roos with four saves.
"No disrespect to any other team, but Mizzou is a legit top-25 program," Head Coach Chris Cissell said. "If we can hang with them and hold them scoreless for the first 52 minutes, then we feel really confident from here on out."
However, the Roos slipped during the second half, as Mizzou blasted three goals.
Midfielder Kelsey Blinow opened the score in the 52nd minute, with an assist by forward Alyssa Diggs, who followed with a score of her own, assisted by forward/midfielder Abi Raymer.
After a foul on the Roos, midfielder Dominique Richardson extended the lead in the 86th minute with a score on a penalty kick.
This week, the team begins the conference season against the Indiana University Purdue University Indianapolis Jaguars 4 p.m. on Sept. 30 at Durwood Soccer Stadium.
According to Cissell, that's when the real season starts.
In conference play, he said, "our expectations are to finish within the top 4, as they've always been."