An underwhelming week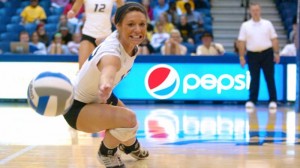 Saturday's 0-3 loss to the University of South Dakota was a disappointment to the Lady Roos, who ended a three-match losing streak on Wednesday with a 3-2 away game victory against the University of Nebraska-Omaha.
The team now stands 6-8 for the season.
South Dakota proved a formidable opponent, winning all three sets with scores of 25-16, 25-16 and 25-20.
Wednesday's game wasn't quite so bleak.
On Wednesday, the Roos lost the first set 25-19, but recovered during the second set with a 25-20 victory. The Roos took the third set 25-21, but the Mavericks 25-21 victory in the fourth set tied the match.
With two sets apiece, the teams played a fifth set, which the Roos dominated.
During the match, Elizabeth Beck posted a career-high 19 kills, while Kelsey Knoche finished with 17 kills and a career-high 24 digs. Brittney Robers recorded a career-high 31 assists while Ella Meier recorded 22. At the net, Christina McQuin had a team-high five of the Roos' seven blocks.
After this victory, the Lady Roos were 6-7 overall and 1-3 in the Summit League play.
Earlier in the week, the volleyball team accumulated a three-match losing streak during the Summit League home opener, falling 3-0 to the South Dakota State Jackrabbits on Monday, Sept. 19 at Swinney Recreation Center.
On Monday, the Roos fell to 0-3 in league play after straight set scores of 25-14, 25-20 and 25-16.
During the match, the Roos were lead by senior Nicole Kerkman, who finished with a team-high 16 digs.
Knoche led the team with 10 kills and came in second with nine digs.
Next up for the Blue and Gold will be a home game against Western Illinois on Friday Sept. 30 at Swinney Recreation Center.