A 'fair' day at the 80th annual Plaza Art Fair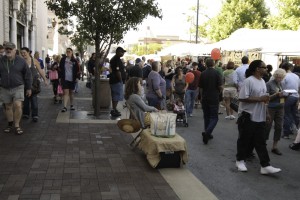 A picturesque day with white fluffy clouds against a shockingly blue sky with a slight breeze painted the backdrop for the 80th annual Plaza Art Fair. It was very crowded and parking was impossible.
The Plaza Art Fair has been ranked among the top 10 by www.artfairsourcebook.com in terms of gross sales.
The crowds were dense, but were as enjoyable to look at as the wide collection of art; I spent quite a bit of time people watching.
The live music ranged from mediocre to exceptional, and created a laid-back vibe even among the hustle and bustle of the crowds.
I have gone to the Plaza Art Fair and the Brookside Art Fair for the last two years, and there are many artists I have seen multiple times.
One of the best things about the Plaza Art Fair is the variety of the mediums and materials employed by the artists. There is always something completely new that boggles the mind and imagination. There was an artist this year who made clothing pieces that could hang on a wall out of sheet roofing metal.
Particularly impressive was the throwback 1940s dress with creases and what looked like fabrics folds.
There were a great number of artists I enjoyed. Some notables include Juli Adams, Audrey Heller of San Francisco and Thomas Wargin of Menomonee Falls, Wis.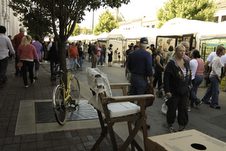 Juli Adams paints fantastic portraits of the imagination that are grounded in a Victorian reality, with titles that seem more appropriate for an opening line of a novel than a title for a piece of art. Her diminutive miniature paintings, an assortment of subjects from skeletons with umbrellas to penguins, are fanciful and endearing.
Audrey Heller works with photography, and her spin on photos is to create stories by placing miniature figures into a comparatively giant world. Some feature tiny figurine dancers waltzing across sheet music of Rodgers and Hart's "My Funny Valentine."
Others are small figurines reading a paper balanced on the rim of a coffee cup, or a tiny wagon traveling across the "Book of Life." These works are both fanciful and thought-provoking, and while Heller is one of the repeat artists, I enjoy her work more every time I see it.
Thomas Wargin works with sculpture. His pieces represent the ramblings of the self-conscious mind. Often working on abstract, heady and aesthetic levels, his work ranges from humorous to profound, often incorporating both into one piece. One of my favorite pieces is a demon-like figure on Wargin's representation of a motorcycle-like machine flipping off the driver in front of him. My other favorite is his series called "Mindset."
This features idealized naked men pulling their minds apart with strings connected at the temple, while the small broken pieces form a geometric checkerboard of confusion with the empty spaces between.
The Plaza Art Fair offers an extremely eclectic collection of 24 different artists, so there is sure to be something for everyone, from jewelry and hand-dyed wool, to black and white photography and watercolors to woodworking and pottery.
There will be plenty of arguments over what should and shouldn't have made the cut at the Art Fair, but the great thing about art is that there are no rules. Anything can be art. Good art, maybe not, but then again it is all subjective, which leads to lively discussion while walking through the fair.
While occasionally feeling like a rerun, the 2011 Plaza Art Fair was a refreshing day out, with some real gems of art hidden among the tents, if you were willing to brave the rough crowds and parking.