Wylliams-Henry Contemporary Dance Company opens 20th season at White Recital Hall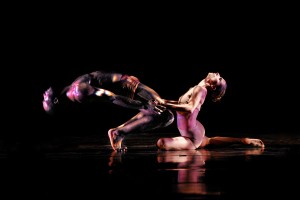 The Wylliams/Henry Contemporary Dance Company will be opening its 20th season with its annual fall concert at 8 p.m. Friday, Sept. 30 and Saturday, Oct. 1 in White Recital Hall (PAC). The concert will present some of the highlights of the company's past repertory or over the last two decades. It includes both current and past students of the dance program.
Founded in 1991 by dance faculty members Mary Pat Henry and the late Leni Wylliams, the company has strived to present innovative and quality American contemporary dance that runs the gamut from the traditional dance to the avant-garde.
Now the Professor of Ballet and Assistant Dean of Faculty Affairs at the Conservatory of Music and Dance, Henry is the recipient of the Muriel McBrien Kauffman Award for Artistry/Scholarship for 2007. The Wylliams/Henry Contemporary Dance Company also had the honor of performing at the Kauffman Performing Arts Center's Open House on Sunday, Sept. 18 at the Muriel Kauffman Theatre, as part of the grand opening ceremonies.
The fall concert lineup includes some of the more memorable and highly acclaimed pieces in the repertory, such as "Sha Tah Tee" by Co-Founder Leni Wylliams.
The critically acclaimed "Trains," by Co-Founder and Artistic Director Mary Pat Henry, "To Have and To Hold," by internationally renowned choreographers Shapiro and Smith, "Ritual," an audience favorite, by Amber Perkins, "Desire," by Chicago choreographer Gary Abbott and a company premiere by Atlanta choreographer Lonnie Davis will also be included.
The Wylliams/Henry Contemporary Dance Company are considered Artists-in-Residence at the Conservatory. They have many connections with the Dance program, not only through its founders, but also its talented company members. The cast includes dance faculty member DeeAnna Hiett, Dance alumni Jerome Sigler and Erik Sobbe, as well as current dance students, Brittany Duskin and Gavin Stewart. Dance students often apprentice or understudy for the company, which creates a dynamic relationship with the dance program.
Ticket information available online at www.wylliams-henry.org, or at the PAC Ticket Office, 816-235-6222. Ticket prices are $24, $18 and $15 for students and seniors, with appropriate ID.