Let Me Tell You What I Think: Why should you care about the Kauffman Center?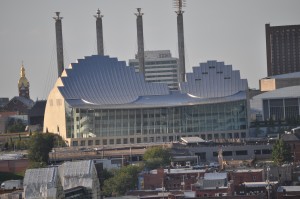 When I moved to Kansas City from the D.C. area seven years ago, the performing arts-lover in me bitterly wept. I was leaving my beloved Kennedy Center and all the culture on display in its famous walls.
As a kid, I would save my pennies for months to buy tickets to see the latest opera star or Broadway musical visiting the Kennedy Center, or just to be able to walk along its terrace overlooking the moonlit Potomac River in the evening.
Don't be mistaken. I wasn't some high-class connoisseur. I was a kid who liked to dress up and walk the literal red carpet where presidents and senators promenaded, and tried not to get depressed about my nosebleed seats.
At the same time, I loved the performing arts and knew what good performances were, and I knew the Kennedy Center hosted the best in the world.
When I found out my family was moving to Kansas City, a quick Google search of the performing arts venues and performances was enough to make me cry.
I was used to looking at online calendars with five performances a day with world-class artists in a world-class facility. When I looked at Kansas City, it was by no means comparable.
Was I being spoiled and a tad melodramatic? Probably. Was the Kansas City performing arts scene a complete squalor? Absolutely not. But did Kansas City have a performing arts venue that could stand up against any major city in the U.S. without blushing? To put it lightly, hell no.
Not anymore.
The Kauffman Center is pretty damn good.
With 285,000 square feet designed by internationally- renowned architect Moshe Safdie, a 1,600-seat hall for the symphony and a 1,800-seat hall for opera, dance and theatre, a performance season full of prestigious artists, and an aesthetically stunning skyline addition put it in a very rarefied league indeed.
I'm pretty sure the 50,000 people who waited hours in the rain to attend the open house last Sunday would agree. (Interestingly, that's enough people to fill the other Kauffman Center. You know, the one for the baseball arts.)
I can honestly say that while standing in line in the rain next to the tens of thousands of people who looked like they wouldn't want to be anywhere else, I couldn't be more proud of my adopted city. It was clear to me that the unveiling of the Kauffman Center facility wasn't the only thing on display.
Musicologist Paul Henry Lang once said, "Every civilization is a synthesis of man's conquest of life. Art is the ultimate symbol of this conquest."
In an era where budget cuts and a slow economy have made the performing arts an endangered species in most cities, here Kansas City is spending more than $300 million on a home to honor them.
I guess the question of why we should care about the Kauffman Center and the performing arts has already been answered, because it's clear Kansas City does.