Bloch School receives $32 million donation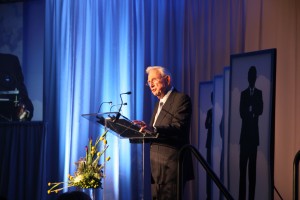 School ranked among nation's best for entrepreneurship and innovation
On Thursday, Chancellor Leo Morton announced the largest single donation in UMKC history, a $32 million donation from H&R Block co-founder Henry W. Bloch.
The contribution will fund the construction of the Henry W. Bloch Executive Hall for Entrepreneurship and Innovation, an addition to the Bloch School that is expected to open by fall 2013.
Bloch School Dean Teng-Kee Tan said the building will house the school's graduate studies and Entrepreneurial Scholarship Program (E-scholars).
"This gift is made to create a one-of-a-kind state-of-the-art facility that will forever change how UMKC educates and trains future generations of entrepreneurial and innovating leaders," Morton said.
In addition to Bloch's generous contribution, Morton also announced the Bloch School's top national rankings.
The Princeton Review, which researches and analyzes 2,300 business programs across the world, ranked the Bloch School's Institute for Entrepreneurship and Innovation (IEI) graduate programs as a top-25 program.
Morton announced the IEI is now ranked as No. 21 in its graduate programs and No. 14 in its undergraduate programs.
UMKC is one out of only 11 universities that have both their undergraduate and graduate programs ranked in the top 25 by the Princeton Review.
Tan credited the success and achievements of the IEI and of the Bloch School to Bloch's vision, contributions and hard work.
"Henry had a vision when he endowed the school, that one day it will lead among the nation's best, and today we are seeing what Henry saw, as we came one step closer to the realization of our dreams," Tan said.
Governor Jay Nixon said Kansas City is home to a powerful combination of organizations that focus on entrepreneurship.
"Kansas City is placed to become the epicenter of entrepreneurship for the Midwest, our country and our world economy," Nixon said.
Henry Bloch was inspired by the success of the Bloch School and IEI. He recognized that UMKC is igniting the spirit of entrepreneurship in the community and urged community support for the school.
The Bloch School, Kauffman Foundation and the Greater Kansas City Area Chamber of Commerce are assets that will help Kansas City obtain a respectable position in the entrepreneurial world, Bloch said.
Bloch recognized the school's administration, and stressed that the Bloch School is helping Kansas City obtain a prestigious position worldwide.
"Tomorrow begins today," Bloch said. "We are on the cusp of an even greater opportunity, an opportunity to push our horizons even further, to better our rankings, to stay on the front edge of education and innovation."