'A wonderful, marvelous city'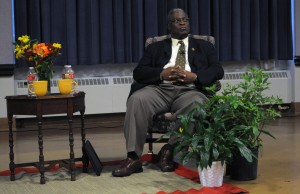 Mayor shows optimism at campus meeting
Kansas City Major Sly James listed crime reduction, job creation and government efficiency as his top three priorities last Saturday at Pierson Auditorium.
The event, a town hall sponsored by the Kansas City, Mo. NAACP- Young Adult Committee, addressed key issues affecting the city's administration through a series of questions asked by the event coordinators and audience members.
The public was given the opportunity to ask questions via Facebook and Twitter.
After the town hall officially ended, James remained in Pierson to answer questions from audience members.
The program was divided into segments addressing his first 100 days in office and the priorities of his administration moves forward.
At times, James appeared frustrated, criticizing the city's council-manager form of government, which limits the mayor's ability to act and make important executive decisions.
The mayor also criticized state control of the police board when asked what his plan of action was to deter crime in the city's blighted east side.
"My plan of action doesn't matter," James said. "I have no control over what the police department does other than my role as a member of the Police Board of Commissioners. Two cities in this country do not have control over their police departments: Kansas City and St. Louis."
The issue of state control of the police board comes at a critical time. Police Chief Jim Corwin recently announced his retirement, and the city is in the process of reviewing applicants for the job.
Part of James' plan is to implement community policing efforts to reduce violent crime.
"The police officers in this city are well-trained and well-qualified, and they do a pretty good job by and large," James said. "But they need some things we haven't been able to give them, and that is diversity. You can't have a serious community policing effort if you don't have officers that represent the city."
The mayor repeatedly emphasized the lack of revenue in the city's general fund to pay for salary increases for city employees and necessary infrastructure improvements.
"Our finances are solid, but they're tight," James said. "We don't have any fat. We're hoping to approach one percent growth in our general fund and that's it. We are able to meet all of our obligations, but we don't have any room to grow."
James said he hopes a focus on educational initiatives will strengthen the city's long-term economic viability.
"If we do not address the schools, we will continue to struggle with jobs, and if we struggle with jobs, we will continue to struggle with neighborhood issues," James said. "No single issue in this city can be solved with a bullet solution. We must work on a number of solutions together."
The mayor discussed a proposal underway that will stress reading programs for elementary school children. The program will collaborate with the city's school districts and numerous charter schools.
Despite the gravity of the issues addressed, James remained upbeat and positive about the direction of the city.
"Despite all the challenges in this city, you live in a wonderful, marvelous city," James said. "There's good stuff going on."
Specifically, he cited the city's top rankings for start-up businesses and entrepreneurial endeavors.
The mayor discussed Google's ultra-high-speed fiber optic network, which will arrive in Kansas City metro area before anywhere else, and also mentioned the recently announced $32 million Bloch School endowment and a Wall Street Journal report that found the growth in IT companies in Kansas City exceeded well-known hubs like Silicon Valley.
He also touted national recognition of last week's debut of the $326 million Kauffman Center for the Performing Arts.
"This is a cultural haven, we need to treat it as such, expand on it, and market it," James said. "We may have this thing with Kansas [referring to competition for businesses], but we're growing this city from the inside out."
Concluding the program, the mayor stressed the need for the city's different factions to work together.
"We have to stop this nonsense of north and south of the river and east and west of Troost," James said. "We need to quit acting like there's a Berlin Wall and a river without a bridge. We must address our problems in a more constructive way."
Speaking to a predominately African-American audience, James also cautioned against racial divisions.
"Everything in this city does not have to be a fight, and everything in this city does not have to be a fight about race," James said. "The sooner we figure that out, the faster we're going to move toward a better city."