Magazine ranking rips UMKC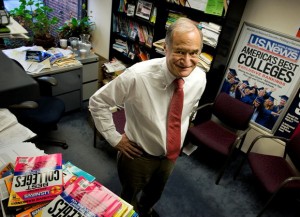 Washington Monthly criticizes UMKC for not giving back to the community
The Washington Monthly's 2011 national university rankings placed UMKC 245 out of 258 surveyed universities.
The rankings were based on three categories: social mobility, research and service.
The Washington Monthly prides itself on ranking schools that give back to the community, unlike the university rankings published by U.S. News.
"Colleges change their policies to climb the U.S. News ladder by rejecting more student applications, hounding alumni for donations and spending lavish sums on attention-getting buildings and star faculty hires," The Washington Monthly editors wrote.
They argued schools should focus more efforts on giving back to our country, and preparing a diverse student body for careers that will make our nation more prosperous.
"The fact that UMKC is at the bottom is only a reflection of its failure to meet the arbitrary standards of what a good university should be," said Lauren Haley, a junior political science major. "By no means are we Harvard, but the entity that needs improvement is the survey."
Some universities that are usually at the top of the U.S. News ranking fall a lot lower on The Washington Monthly list. Yale is number 39 compared to number 3 on the U.S. News list. Washington University in St. Louis falls way below the U.S. News ranking from number 13 to number 112, and U.S. News ranks UMKC higher at number 181.
U.S. News looks at factors such as acceptance rate, graduation rate and student-to-faculty ratio.
However, many believe potential students should not focus too much on the rankings. Each university is different and better suited for different types of students.
"The ratings were not something I took seriously," said Angelica Beltran, a sophomore business administration major. "I wondered where UMKC was ranked, but I knew that the same schools would always be at the top: Yale, Harvard, et cetera."
The U.S. News college rankings survey college officials and high school counselors, whose ratings count for about 25 percent of the total ratings. They receive a list of more than 250 colleges and have to assess each one.
While many would like to attend a reputable school with high ratings, to say that one college is than another across the board would be difficult to measure.
Some students may appreciate a school that better fits their individual needs, which may not be quantifiable. Because of this, some would caution against basing one's college decision on ratings.
"A higher ranked school will look better when applying for jobs," freshman Denis Hotaj said. "But sometimes it might not be the right school for you."