Player of the Week: Korbin Kuehn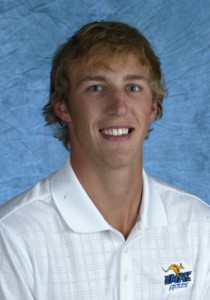 Junior Korbin Kuehn kicked off the men's golf season with a score of 1-over-par 217 and tied for 30th place at the Golfweek Program Challenge last weekend in Pawley's Island, S.C.
Hosted by Golfweek Magazine, Kuehn posted scores of 70, 75 and 72.
He already held a career 75.23 scoring average coming into the season, ranking 5th in school history.
Following last season's second-team All-Summit League selection, however, Kuehn wants to continue to improve the consistency of his game.
"I felt like I should have played a little better, but I feel comfortable with my swing," he said. "It just needs a little bit more work."
Head Coach J.W. VanDenBorn agreed.
"The biggest thing for him is we've made a lot of changes over the summer to try to make him better," he said. "We're still kind of fighting through a few of those things and making adjustments, but when he gets settled and when he gets confident with what he's doing, he's going to be very difficult to beat."
Kuehn rose to the occassion in the final two rounds at the Summit League Tournament last season when he fired consecutive 69s to finish ninth overall with 218 (80-69-69).
"I think he's far from playing his best golf. I think you'll see more consistency in terms of him shooting lower scores," VanDenBorn said.
The optimism is consistent with Kuehn's progress. His career has been marked by high achievement since he joined the Blue and Gold in 2009.
During his freshman year, the Overland Park native became just the second golfer in UMKC history to receive the Summit League Championship Tournament MVP award, and subsequently became the second Kangaroo to compete in the NCAA Regional Championship.
He also posted two top-10 finishes that year.
He posted seven more during his sophomore year, when he led the team with 14 rounds at or below par.
Shooting for another championship this season, his overall commitment hasn't changed.
It remains with the success of the team, which is the defending Summit League Champion.
"Our team goal is to win a conference championship again. It is the main thing we're working towards," Kuehn said.
He gets the chance to lead the march to another championship this week at the Kansas Invitational, where he posted his best performance of the 2010-11 season with a 3rd place finish and score of 215 (72-72-71).
Based on the golf star's approach, last season's success won't affect his preparation for this year's invitational, hosted by the University of Kansas.
"I'm pretty laid back," he said. "I don't really have any routine. I kind of go about my business."
Nonetheless, the team is looking forward to seeing what Kuehn has in store for a complete season.
"I think it's unrealistic for us to expect him to go out and shoot 65 every time he tee's it up but he's very capable of doing that," VanDenBorn said.