Remembering John Willett: Memorial honors alumnus killed on 9/11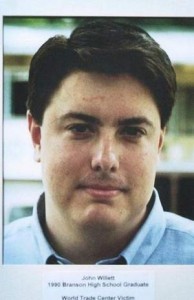 Last Friday, UMKC commemorated one of its own.
A ceremony held outside Scofield Hall honored alumnus John Willett, who completed his master's in economics in 2000.
One year later, he was one of 2,606 casualties in the World Trade Center attacks on Sept. 11.
At the time, Willett, 29, was an analyst at Cantor Fitzgerald, an investment bank, and worked on the 101st floor of the north tower, several floors above where the first plane hit at 8:46 a.m.
Willett was the only child of Ron and Lucy Willett.
Both parents, along with other family members and friends, attended the ceremony held in his honor.
The ceremony was also attended by Chancellor Leo Morton, numerous deans, faculty, staff and students, including SGA President Jay Devineni and Arts and Sciences Interim Dean Wayne Vaught, who both spoke at the event.
Morton emphasized the importance of commemorating victims, such as Willett.
"I can remember exactly where I was when John F. Kennedy and Martin Luther King, Jr. were assassinated," Morton said. "And I remember exactly where I was when the towers came down. The difference was the sheer number of people impacted by the tragic events of 9/11."
Dr. Karen Vorst, economics professor and former dean of Arts and Sciences, currently on leave, made a special visit to commemorate Willett.
"I can still see him sitting in my office, talking about his future and the kind of position he wanted," Vorst said. "I wish we could have done more to persuade him to continue at Notre Dame in the Ph.D. program, but I could imagine the delight in his eyes when he landed that job at the World Trade Center, his dream job. We, of course, were so proud of his accomplishments."
At age 23, Willett became the youngest county treasurer in Missouri when appointed to that post in Taney County by Gov. Mel Carnahan.
Willett was also politically inclined.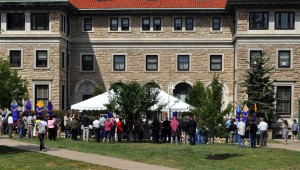 "He was so excited when President Clinton and Vice President Gore were coming to Kansas City," Vorst said. "That exact date escapes me now, but he said he would get me tickets for the 'inner circle' when they came to town, and he did. The tickets were under my door the next morning."
Willett was close to both parents, but his visits became less frequent as he grew older. Before accepting a job in New York, he began work on his Ph.D. at Oxford, and later, Notre Dame. The last time he visited his parents was on Mother's Day in 2001.
On 9/11, Ron Willett said he was home when he received news of the attacks, after which he called his wife, who was working at Branson High School, their son's alma mater.
"It wasn't until I saw the second plane that it hit me," Ron Willett said. "A couple of days later, his name showed up on a survivors list."
Ron Willett said he and his wife searched for their son in hospitals in both New York and New Jersey, but were unable to find him.
Ron Willett said his wife found a homeless man under a metal staircase who looked like their son, and checked to make sure it wasn't him.
After learning John's name was placed on the survivors' list by mistake, the reality began to sink in, but the Willett's remained hopeful.
"As a parent, you don't give up that easily," Ron Willett said.
A memorial outside the Willett's home, seven miles north of Branson, Mo., contains a miniature brass replica of the World Trade Center and a cross measuring 6'4", the height of their son.
At the University of Missouri-Columbia, where Willett completed his undergraduate work in 1995, a John Charles Willett Memorial Scholarship was created in his memory in 2007.
For Willett, ceremonies and memorials aren't about closure, but preserving the memory of a life cut tragically short.
"People keep using the word 'closure,' and I don't really believe in that word," Ron Willett said. "To me, that's like closing a door and forgetting about it, and that's not something I can do."
A bench dedicated to Willett will be placed in the center of the quad between Royall and Flarsheim halls.
"It is right in the middle of everything, exactly where John would want it to be and where it will be seen by many," Vorst said. "A plaque will help us remember him, and our hope is that that bench will become a point of reflection and calm."