Top 10: Cold Treats!
1. Fresher Than Fresh Snow Cones, 110 Southwest Blvd.; $3-7
Walking up to this Shasta teardrop trailer, there may be a long line for this awesome summer creation. But it is worth it. This isn't your average snow cone. It challenges the perception of snow cones as red, white or blue orbs. Instead, discover the new, decadent face of snow cones, fresher than fresh. Lindsay Laricks, the owner, has made it her mission to make sure the snowcones are 100 percent natural and the paper and supplies she uses are compostable. From Lemon Prickly Pear to Espresso and Piloncillo, these summer treats are sure to appease your tastebuds.
2. Glacé Artisan Ice Cream,
4960 Main St.; $5-9
Glacé is rich in texture and has inventive flavors like Venezuelan dark chocolate, fleur de sel caramel, and pineapple-cilantro sorbet. Christopher Elbow, owner of Christopher Elbow Artisanal Chocolates expanded his creative passion to Artisanal Ice Cream. He has taken a culinary approach to the production of it and uses real, natural, and local ingredients. It is located just off campus and sure to be a great after-class treat.
3. Murray's Ice Cream and Cookies
4120 Pennsylvania Ave.; $5-7
Murray's Ice Cream and Cookies, located in Westport has that soda fountain feel. There are so many things to choose from at Murray's, from rich, homemade ice cream and a malt-ish "Lumpy" to a "Smoothie."
4. Miami Ice, 1624 W 39th St.; $3-5
Miami Ice offers shaved ice desserts paired with custard, as well as ice cream, shakes and other concoctions. The environment at Miami Ice would lend you to believe it's a hipster hangout, but that is not the case. Many a mother and child or young couple could be found here enjoying the treat they were craving.
5. Paleterias Tropicana,
800 Southwest Blvd.; $5-7
Paleterias Tropicana offers many types of desserts. From pan dulce (sweet bread) to helado (ice cream), all come paired with fresh fruit. If you are heading in on a Friday evening, be ready to wait in a line. Also, the menu is in Spanish, so non-native speakers may have a hard time understanding. The staff can help you translate. A sure-fire winner is the paletas (popsicles), made from fresh fruit and either milk or water. These will surely be the talk of your tastebuds.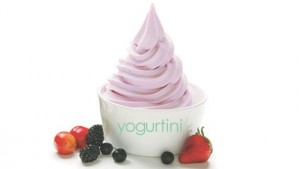 6. Yogurtini, 4853 Main St.; $5-10
Yogurtini is one of the many self-serve stores popping up all over the metro area. Yogurtini has 16 rotating flavors with about 70 toppings. Sample cups are available to try different flavors. The yogurt wasn't too heavy or too light. Paired with one or more of the 70 toppings from the topping bar, it's sure to be the perfect treat.
7. Red Mango,
5050 Oak St.; $3-7
This location offers 10 rotating flavors with a toppings bar of about 30 to 35, from fresh fruit to mochi (japanese rice cake). Red Mango is sure to have something to satisfy. The store is located just off campus and accepts Roo Bucks, but not flex points. They also have a wide list of smoothie choices that can be made with or without yogurt. Try it without yogurt, substitute orange juice and you're sure to have a great light smoothie.
8. PeachWave Frozen Yogurt,
401 Westport Rd.; $5-7
Although its website is misleading (it claims to offer 30 flavors at this location), they offer 14 flavors at any given time. Their toppings bar has more than 40 toppings. It is relatively new to the area and are full on Friday or Saturday nights. They pride themselves on offering an "alternative to retailers that serve frozen desserts containing high amounts of fat and sugar." But this tasted the most sugary of the frozen yogurt I tried. Located in Westport, PeachWave is a brisk walk from campus, be sure to try it out.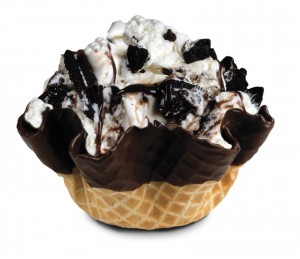 9. Cold Stone Creamery,
114 W 47th St.; $5-10
Cold Stone offers the original ice cream parlor feel. You pick your ice cream, then your "mix-ins." The "Mix Master" then throws the ice cream or sorbet onto the five-foot-long frozen marble stone, and will mix in a wide variety of things, from fresh fruit to pie filling to candy bars. The concoction is up to you. This location was not the cleanest nor the friendliest.
10. McDonald's,
3255 Main St.; $1-4
Sometimes we're just in the mood for a simple vanilla cone. Whenever you are in the mood for that, McDonald's is open around the clock to satisfy your craving. It also offers shakes in multiple flavors.