Carmageddon
Students vie for parking following garage demolition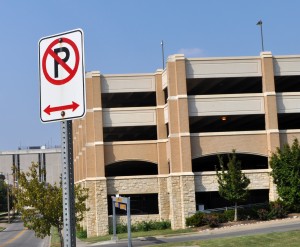 A giant man-made crater occupies the site of the former Oak Street parking structure and adjacent lot.
The temporary loss of nearly 800 parking spaces from the demolition, coupled with growing enrollment, has made parking an especially hot commodity.
On Aug. 22, a line snaked around the corner of Parking Operation's office on the second floor of the Administrative Center.
A whiteboard outside the office listed the availability of parking permits by type. Commuter permits sold out prior to the first day of class.
But students continued to stand in line for commuter permits until a Parking Operations employee came out of the office to reiterate the message: "sold out."
Needless to say, permits are even more difficult to come by the third week of school. Remote parking passes, which allow students to park at Hospital Hill and take a bus or shuttle to and from the Volker campus, quickly sold out the first week.
Students hoping to obtain a pass for the fall semester must now fill out a waiting list form on Parking Operations' website.
Parking Operations Manager Michelle Cone said additional commuter and remote permits will likely be made available to some students on the wait list this Wednesday.
The number of permits issued will depend on the outcome of the lot study completed last Friday. Then, 667 students were on the wait list.
However, the parking crunch did not come without warning.
In November 2010, a $45 million bond package was approved for UMKC by the University of Missouri Board of Curators, including $23.1 million allocated to replace the Oak Street garage with a new parking structure with double the capacity. But the new garage is not expected to be completed until the fall 2012 semester.
Cone said the remote permit was introduced last spring to ease cramping in garages and lots on the Volker campus, but zero remote permits were sold at the time.
Associate Vice Chancellor of Administration and Facilities Bob Simmons said the UMKC Transportation Department is working on modifying its shuttle routes to include more frequent trips between both campuses.
The approval of Student Government Association's bus pass vote last spring approved a $14 fee each semester that allows students to ride KCATA's Metro and MAX bus routes free of charge using a student ID.
Updates from Parking Operations, including a parking update section in U-News last semester, warned of the coming situation.
"Considering the amount of communication with incoming and returning students, we were a bit surprised by the number of students who had no idea any of this would be going on," Cone said.
Regardless, the current situation hasn't resonated well with some students.
A strongly-worded anonymous letter sent to U-News questioned Parking Operations' decision not to sell additional permits. It read:
"I think you guys should do some research and report on the ridiculous fact that Parking Operations has 'sold out' of parking passes. There are hundreds of students who are shit out of luck because of this. I think it's atrocious that we pay over $7,000 a year in tuition, but they won't let us buy a pass."
Others were more understanding of the situation.
"I'm happy they restricted the number of permits because I had a hard time finding parking at the beginning of previous semesters," said Kris Everson, a senior in the School of Education. "But there are still too many people using expired permits and students with no permit at all."
Everson, who has a commuter pass, said she parks behind the Student Academic Support Services (SASS) building, which isn't as chaotic as the Rockhill parking structure.
Students who did not expect the parking crunch arrived late to class the first day of class.
Toby Marshall, a graduate business student, said she arrives at least half an hour early, but has still been late to class and struggles to find parking.
"They changed the setup of some of the lots, including the metered lot in front of the University Center," Marshall said. "It's kind of confusing and not as flexible as it used to be."
Other students also arrive early to reduce the risk of being late to class if they can't find parking.
John Kim, a business graduate student, said he arrives to campus 40 minutes early to find parking.
"I applied early, so getting a permit was no problem," Kim said. "I try to park in the Education [Building] lot first, and if I can't park there, I try Rockhill."
Peter Rasmussen, a senior studying political science, said he arrives 45 minutes early to find parking.
"I would say it's actually easier for me to find parking than last year," Rasmussen said. "But getting out of the garage is a lot worse."
Students who have attended other schools and take classes in the evening, when fewer students are on campus, also expressed different views.
Ashley Walker, a graduate Arts & Sciences student, said parking is an improvement over what she dealt with at her last school.
"It's 10 times better here than at K-State," Walker said. "You literally had to sit and wait for people to move in the parking lot at K-State. It was like you were stalking somebody."
Jon Barrett, a graduate student in the School of Education, said he hasn't had difficulty finding parking prior to his evening classes.
"I haven't experienced much crowdedness because my classes are at night," Barrett said. "But I know it's a different situation during the day."