Red Bull brings BMX Flatlander Terry Adams to UMKC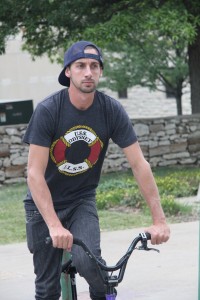 Whenever Red Bull comes to campus, passing students are typically given a free energy drink. But the beverage company's visit last Tuesday gave students something different and unexpected.
Surprise guest Terry Adams, professional BMX Flatlander and 2005 Asian X Games Gold Medalist, crashed students' walk between classes by putting on a show, spinning, flipping and zooming across the quad on his bike.
Adams, 28, came to campus as part of a 50-day college tour.
"We try to fly in under the radar," Adams said.
Adams and his sponsor, Red Bull, aimed for the visit to be discreet and unexpected.
"We just pulled up this Red Bull truck right in the middle of a bunch of classrooms and sessioned a bit," Adams said. "And that's pretty much how the tour is going, just showing up, doing some riding and people who want to watch can check it out and see what's up."
The Red Bull gang expected to be kicked off campus by the UMKC Police because of its custom Red Bull truck, tricked out with speakers, woofers and rising monitors playing music and videos to attract students as they commuted to class.
Adams, a member of the somewhat uncommon sector of BMX known as Flatlanding, comes from the Hammond, La., where he began his passion for flatlanding while he was home-schooled because of his asthma and dyslexia.
"I wouldn't say that those things were obstacles," Adams said on his Red Bull profile. "If you want something bad enough, you can do whatever you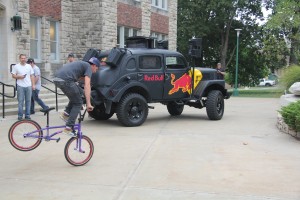 want in this world."
Over the years, Adams has had great success.
In 2005, he was named Flatland Rider of the Year and earned a NORA Cup, which he won again in 2008.
He has appeared on "Ellen" in 2009 and season two episode of "Glee" in 2011. He has appeared on the cover of multiple magazines, including BMX Plus! and Ride BMX.
When it comes to BMX, Adams is a pro.
In 2010 he took 1st in the Twilight Jam in Athens, and in 2008, he placed 1st at the BMX Games in Sydney.
So why does Adams choose Flatlanding of all the other disciplines of BMX?
"I wanted to start riding flatland because it pretty much looked impossible," Adams said. "It's almost like watching someone fly."
To learn more about Adams and what campus he is headed to next, check out his website, www.terryadamsbmx.com/. To see all of Red Bull's upcoming events and promotions, head over to www.redbull.com.