Men's soccer defeated by Creighton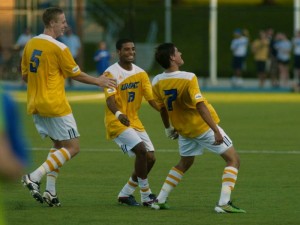 The men's soccer team played against Creighton on Aug. 31. Looking to avenge their opening day loss to the University of Nebraska-Omaha (UNO), the Roos looked pumped and ready for the challenge. But they lost to Creighton 5-0.
Knowing how important it is to post a respectful record this season, this game would be where the Roos could re-establish home field dominance by kick- starting a winning streak after UNO halted their previous eight-game home streak.
However, the Creighton Blue Jays had other plans in mind. The Blue Jays secured a 1-0 shutout in their season opener and were looking to improve to 2-0 with a victory at Durwood Soccer Stadium.
It was apparent both teams were ready to play, but it didn't take long for the Jays to show they were the more prepared and dominant team.
The blues jumped ahead with goals in the 21st and 31st minutes.
Both goals were scored by Creighton's senior All-American forward Ethan Finlay after a good wide link-up play.
Early mistakes by UMKC proved costly as the Roos fell behind by another score in the 34th minute through a 20-yard shot by Liam Kelly, assisted by Jose Gomez. By the end of the first half, UMKC was outshot 9-1.
In the beginning of the second half, goalkeeper David Sarabia had been replaced by sophomore Kevin Corby to try to stop the bleeding.
Corby would give up a penalty kick goal in the 67th minute, which Gomez converted with ease. Although UMKC played a more fluent second half of possession, the Roos' best effort came when senior midfielder Chris Markey's free kick struck the Jays crossbar.
Creighton would put the icing on the cake by scoring in the 76th minute, bringing its lead to 5-0, walking away with a 13-4 shot advantage to end the second half.
Next up for the Roos, 0-2, is a trip to Illinois, where the team will take on Northwestern on Sept. 5.