Volleyball team's victorious comeback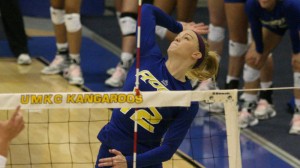 The Lady Roos travelled to Radford, Va. and defeated both Chicago State and the University of South Carolina Upstate last Friday, before a dramatic comeback victory against Radford on Saturday.
UMKC now stands 3-3.
Against Chicago State in the tournament opener, senior Kelsey Knoche led the Roos with 13 kills, eight digs and three blocks.
Junior Emily Lucas and senior Elizabeth Beck each finished with double-digit kill totals.
The Lady Roos took the first set 25-17 and the second set 25-23.
After dropping the third set 25-19, the Roos closed out the match with a 25-18 win.
At the net, junior Annie Gladbach collected a team-high four of the Roos' 10 total blocks.
Later that night, USC felt the wrath of the Roos' newfound confidence. The Trojans were swept in straight sets.
Sophomore Chloe Jarema led the UMKC attack, notching a career high of 11 kills and eight blocks.
Junior Brittney Robers finished the first set, a 25-14 Roos' win, with a kill.
After falling behind in the second set, the Roos took eight of the last 11 points to win 25-23.
The second set seemed to have zapped all the energy from the Trojans, and UMKC romped to a 25-11 final set win.
In the match, junior Ella Meier recorded a team-high 19 assists, while Knoche and senior Nicole Kerkman each had double-digit digs.
At the net, junior Brittany Fossier recorded seven of the Roos' 13 blocks, while senior Christiana McQuin had five.
On Saturday, the Radford Highlanders would prove the Roos' most testing match as they stormed to a 2-0 lead in sets that could easily have gone either way.
The Highlanders took the first set 25-21, but needed extra points to take the second 27-25.
In the third set, the Roos cut the Radford lead in half with a dominating 25-14 win, with back-to-back kills by Fossier and McQuin finishing off the set.
The Roos evened the match in the fourth set with a 25-22 victory, and Jarema's skills proved particularly impressive.
In the deciding set, a kill by Liz Beck effectively sewed up the fifth set as the won 15-10.
For the match, Robers finished with a team-high 28 assists, while Meier chipped in 26.
Kerkman had a team-high 22 digs, and Lucas and Meier each had 11.
The Roos will be back in action next weekend as they welcome the University of Tennessee- Martin, Montana State and Belmont to Kansas City for the Kangaroo Klassic.