All Around Town: First Fridays
Kansas City's art utopia in the Crossroads
On the first Friday of every month, the Crossroads Arts District explodes with a creative burst of passion, energy and people.
The Crossroads is home to more than 100 studios and galleries, many of which open their doors in anticipation of the thousands of visitors who flock to First Fridays.
Thanks to its many galleries and diverse offerings, the Crossroads is quickly becoming nationally recognized in the visual arts scene.
Some galleries, such as the Leedy-Voulkos Arts Center and Hilliard Gallery, have been prominent local fixtures for decades, while more recent additions such as the Belger Arts Center and Kemper at the Crossroads have brought the synergy and critical mass necessary for Frist Fridays to flourish.
Those unfamiliar with First Fridays will likely be pleasantly surprised with an abundance of free food, drinks, street performers and gallery displays.
Last Friday was no exception.
One major disadvantage of the Crossroads is its layout. A former commercial and warehouse district built at the dawn of the 20th century, the Crossroads has the look and feel of a gentrifying urban neighborhood.
Pockets of rundown-buildings and surface parking lots separate the more vibrant areas of the Crossroads, creating pedestrian dead zones throughout the district that can easily confuse visitors not acquainted with Crossroads geography.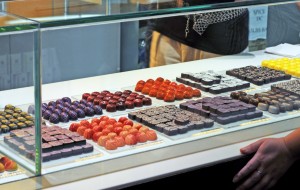 The name Crossroads is derived from the way Southwest Boulevard intersects at an angle with the district's major arterial roads.
The neighborhood encompasses the area between Crown Center and the Power and Light District to the north and south, and the Westside and 18th and Vine districts to the east and west.
There are two distinct clusters of activity in the Crossroads, the "East Crossroads" and "West Crossroads."
The area between Broadway Boulevard and Main Street is home to many well-established galleries and restaurants.
Galleries like Leedy-Voulkos, 2012 Baltimore Ave., Keyhole Gallery, 1903 Wyandotte St., Blue Gallery, 118 Southwest Blvd., and Arts Incubator of Kansas City, 115 W. 18th St., offer a treasure trove of art.
No particular medium or style of art prevails over the other, although the Crossroads tends to better suit those with progressive taste.
Restaurant offerings in the West Crossroads are diverse.
The Freighthouse, at Baltimore Avenue and 22nd Street, features three popular restaurants: Lidia's (Italian), Gruanauer (Austrian) and Jack Stack, a local barbecue chain.
Extra Virgin and Michael Smith, two white tablecloth restaurants by acclaimed chef Michael Smith at 1900 Main St., appeal to a more refined palate.
Recommended casual dining options include Town Topic hamburgers, 1900 Baltimore Ave. and 2012 Broadway Blvd., LuLu's Thai Noodle Shop, 333 Southwest Blvd., and Hamburger Mary's, a flamboyantly gay hamburger restaurant and nightclub at 101 Southwest Blvd.
Mexican food connoisseurs will enjoy a wide picking of restaurants and bars along Southwest Boulevard.
The East Crossroads includes a cluster of galleries and businesses between Main and Locust streets.
Popular dining establishments include The Brick, 1727 McGee St., The Cashew, 2000 Grand Blvd., Nara 1617 Main St., and Grinder's, 417 E 18th St.
The Hilliard Gallery, 1820 McGee St., and Belger Arts Center, 2100 Walnut St., are must-sees.
Not to be missed is Christopher Elbow Chocolates, which has been featured on "Oprah" and "The Food Network."
Although Christopher Elbow's intricately sculpted, rich exotic concoctions normally sell for $2 a chocolate, depending on the size of the box, chocolates are sold $1 apiece on First Fridays, making them an irresistible bargain.
Those who missed out on First Fridays this month can look forward to October, when temperatures will undoubtedly be more pleasant and the Crossroads' galleries will be back in their usual swing.