The Peanut's death wings are a must have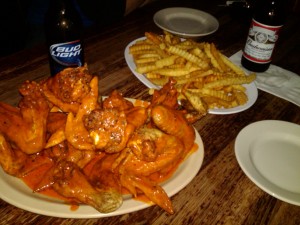 The Peanut, at 50th and Main streets, has some of the most delicious hot wings in town, jumbo sized and seasoned to perfection.
The wings are marinated in the best hot sauce you will ever taste. Hold your nose to them any longer than three seconds and your eyes will water.
I'm a big fan of buffalo-style wings, but finding great wings can really be a hit or miss.
A roommate told me about The Peanut. My first time visiting the restaurant, a woman screamed out, "Why are you even looking at the menu? Just get the wings!"
I found that funny and welcoming at the same time.
The Peanut is more of a bar than a typical restaurant.
It has a chill college atmosphere where students can go with a group of friends to hang out and enjoy some awesome wings.
The Peanut is a local hole-in-the-wall where folks love to visit and catch up with friends, watch sports or wind down from a tough day.
The Peanut serves a variety of meat, nachos, sandwiches, soups, salads and french fries. However, it is best known for its Buffalo Chicken Wings.
The price may seem steep at $8.25 for half a dozen wings and $16.25 for a dozen, but the quality is well worth the price.
Nor are they the traditional tiny wings that require you to eat 20 just to satisfy your hunger. They are large enough that you may find it difficult to make it through four in one sitting.
The wings are served with The Peanut's own blend of bleu cheese dressing, which does a nice job putting the finishing touches on an already delicious dish.
The wings are paired with an order of fries and beverage to cool you down, because you will literally feel like you are breathing fire.
Overall, the menu can seem a bit small, but the wings are most desirable.
The dining area isn't very large and can be a bit uncomfortable when it's crowded, especially on weekends.
I recommend considering takeout on the more crowded nights.
If you you live on campus, it's a perfect place to go with a group of friends.