Conservatory contemplates downtown move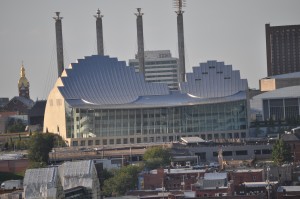 Feasibility study will determine next course of action
The UMKC Conservatory of Music and Dance is bursting at its seams.
Inadequate facilities, increasing enrollment and the potential to be a part of Kansas City's emerging cultural scene have led to a bold new proposal.
The school's nearly 600 students and 100 faculty members are spread out across three buildings on the Volker campus, but that may soon be a thing of the past.
A proposal to consolidate the school's programs into a single location downtown was unveiled earlier this summer.
Dean Peter Witte said the proposal was developed as a result of discussions on ways to deal with inadequate facilities on the Volker campus.
"We have a facilities crunch here on campus that's been noticed for some 20 years," Witte said. "What we currently have is obsolete."
Specifically, Witte cited a lack of practice spaces and recital venues.
Some students may spend up to five hours a day in the Conservatory's practice rooms, which lack adequate soundproofing and have a lip on the floor that makes handicap accessibility problematic.
"Arts facilities have very specific requirements in terms of sound isolation, size and the number of spaces that the students need," Witte said.
However, details of the proposal, including the exact location, cost, financing, completion date, reuse of buildings on the Volker campus, and most importantly, whether or not to actually move forward with the project, have yet to be worked out.
A preliminary cost figure of $50-$85 million was reported in The Kansas City Star.
Funding through UMKC, which has faced budget cuts and recently took on a $45 million debt-financing package to fund three projects on the Volker campus, could be limited. Outside funding will be critical.
"A good number of facilities at institutions now are constructed through private-public partnerships," Witte said."This will rely on significant investment from the community."
So far, school administration has been supportive.
"This proposal has gone through a number of initial hearings," Witte said. "We've received support from the chancellor, provost and a number of deans."
Witte stressed the importance of communication and input from students and faculty.
"We want to communicate and be as transparent as possible about what the possibilities are," Witte said. "The responses I imagine are going to run the gamut, and we look forward to engaging with students frequently."
One clear-cut advantage of a downtown location is proximity to the Kauffman Center for the Performing Arts, which will open Sept. 16 and house the Kansas City Ballet, Symphony and Lyric Opera.
The Kauffman Center, a partner of the Conservatory, will host several of the school's 2011-12 season performances of the artist series.
"This will be a way for us to meet the needs of current and future arts students and connect them with one of the great emerging arts centers of the Midwest," Witte said.
Civic organizations, such as the Downtown Council, have praised the proposal for its potential to contribute to downtown's revitalization.
However, certain issues, such as transportation to the Volker campus, will undoubtedly need to be addressed.
While most Conservatory majors aren't required to fulfill the same general education requirements as other disciplines, there is some overlap, which would require students to travel back and forth between campuses, unless satellite classes are offered downtown.
"This entire process is driven by what's right for UMKC's arts students," Witte said."Our commitment to sustaining the cultural life of UMKC's campuses remains quite strong."