Nelson-Atkins Museum of Art brings the 'Heavens' to Earth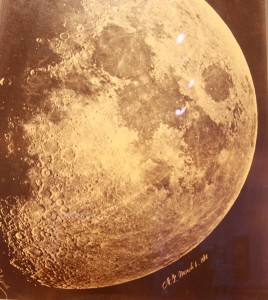 The Nelson-Atkins Museum of Art's "Heavens" has crossed the divide between celestial and terrestrial.
At the museum's latest exhibit, which opened June 9, visitors can see 39 up-close photographs of the sky and cosmos.
There is also a professional telescope that will allow visitors to see the heavens themselves.
"This is the best value for money experience you will get with this stand-out art," said Kathleen Leighton, Nelson-Atkins spokesperson. "It is for anyone who enjoys looking at the sky and wants to see how remarkable it is."
Photographs, including the first picture of the moon, are made using a wide range of techniques that offer great views of the night sky.
Other photographs are more experimental in nature. One artist displays pictures of the intensity of the sun, and because of the extreme light, the picture obliterates.
An undercurrent mood of both mystery and awe is present throughout the exhibit.
The Milky Way galaxy stretches 100,000 light years from one end to the other, which gazing into the night sky poses a huge mystery that generates many questions.
All of the photographs have a unique story behind their making, deeming "Heavens" an exceptional exhibit.
"The great thing is, it is whatever people like to see in these photographs," Leighton said. "Is there life out there? Well, probably. Students can see it for themselves."
The exhibition runs through Nov. 13, and admission is free.
The opportunity to stargaze through the telescope 6:30 to 8:30 p.m. on Sept. 23 in the Kansas City Sculpture Park is one of the several events coinciding with the exhibition. An introduction by curator Jan Schall will precede the event from 6 to 6:30 p.m. in the Atkins Auditorium.
Another exhibit opens Sept. 10 called "After Ghostwatching," where legendary dancer Bill T. Jones will perform a dance sequence viewers can see as a transformation of movements through 3-D glasses.
"I think this will be very interesting because as you sit there, the video is coming right at you as you're wearing the glasses," Leighton said. "It is almost like the figure is hovering within a hand's reach of the viewers and this makes it a very interactive exhibition. The technology used is very complex to capture and makes for a moving visual experience."
For those not familiar with Kansas City's burgeoning arts scene, the Nelson-Atkins is nationally and internationally recognized for its collection of 33,500 works of art, which range from ancient sculpture to Renaissance paintings to modern artwork and photography.