Student dies in motorcycle crash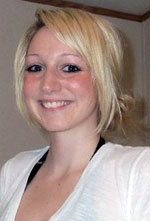 Lauren R. Hance was a student at UMKC who died over the summer in a motorcycle accident. On June 22, 2011 at about 10 p.m. near U.S. 169 and southbound Interstate 435, according to KMBC.com, she lost her life in a three-vehicle accident, involving two motorcycles and a car.
Hance was a passenger on a 2005 Yamaha motorcycle and died at the scene. Hance was 24 years old. The driver of the motorcycle, Emmanuel Calderon, 23, was taken to a hospital where he died later.
The highway patrol stated that Hance and Calderon were both wearing a safety device, according to KMBC.com.
Hance was born in Wichita Falls, Tex. on April 29, 1987; she was a current resident of Parkville, Mo. She was a good student, with a 3.8 GPA. Hance would have graduated at UMKC at the end of this semester with majors in Interpersonal Communication and Business Communication and minors in Business Administration and Spanish.