Arthur Bryant's BBQ
Kansas City classic is home to the "Best BBQ in the United States"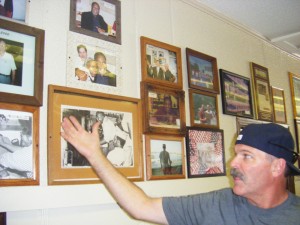 In 1930, a man named Charlie Bryant, started a tradition that has yet to die. In 1980, Arthur, who died in 1982, took over the business after Charlie's passing. People from all around come to experience the rich, succulent, home-seasoned barbeque from Arthur Bryant's.
Arthur Bryant's is so well-known that its regulars include not only people from the community, but also movie stars, musicians and U.S. Presidents, who come to Kansas City to try what's considered the "Best BBQ in the United States."
This amazing restaurant is filled with photos of celebrities who have come to feast on Bryant's meaty menu items. There are photos of Jimmy Carter, Harry S. Truman, Danny Glover, Steven Spielberg, Sarah Palin, John McCain, Jack Nicholson and many others.
This is a great place to eat if you do not mind waiting during a lunch rush or thin nerves of the employees.
At Bryant's, there are barbecue choices galore, from turkey, to chicken and, of course, brisket and traditional ribs. The sides are perfect companions to whichever meaty choice you prefer: baked beans, cole slaw, potato salad, fries and pickles.
On my most recent trip to the restaurant, I happened to stumble across some visitors from Colorado Springs, who came to enjoy a Kansas City brew along with their "World Famous BBQ." Though they found the food extraordinary, the portion size of their beer was "terribly disappointing."
There's one thing that makes this barbeque joint stand above the rest: the sauce. Arthur Bryant's sauce's thin texture and acidic tang is a stark difference from the competitors' traditional heavy, brown sugar-based sauce.
The thin texture allows the sauce to soak all the way into the bone even after the dry-rub meat is thoroughly cooked. The original sauce, which is simple but flavorful, with a vinegar base enables them to expand with "sweet heat" and "rich and spicy" sauces which are also offered at the table – two qualities not exemplified by nearby Oklahoma Joe's and Gates barbeque restaurants.
Another interesting feature of Arthur Bryant's is its cafeteria-style serving method. Instead of wasting time with wait staff or seating, you simply walk up to the window and order your food, receive your food, and pay for it all in an assembly-line fashion.
I rate Arthur Bryant's 4 out of 5 stars. The food is fantastic and the decorations are memorable, but the staff's poor attitude and disregard of customer service is a definite turn off. Due to its addictive qualities, it still passes with an above-average B.