Katy Perry's 'California Dreams' come true in Kansas City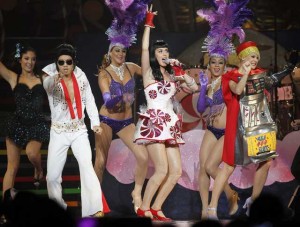 Fresh off her unprecedented tie with Michael Jackson for number one hits off a single album, Katy Perry's "California Dreams" tour landed in Kansas City last Wednesday night at the Sprint Center.
With 95 percent of the 19,000 seats filled with screaming fans, the Sprint Center wasn't just a concert arena, it was a party with most of the fans on their feet and dancing in the aisles and at their seats.
The show opener was the Kansas City, Kan. native, Janelle Monae, and Monae worked her hometown tail off warming up the crowd for Perry. She and her band, dressed completely in black and white, jumped, danced and frolicked about the stage and even into the audience, with Janelle mounting one of her band member's back and getting a piggyback ride throughout the crowd.
Janelle did her city proud, showcasing great songs and a stunning voice, but was lacking a bit in personality. She didn't talk to the audience much, and while most of her antics were entertaining, there were some that were strange and erratic, especially when she fell to the ground and sang while her body seized and gyrated.
All in all, Monae gave a great performance and had amazing energy, though it wasn't appreciated by everyone, as she was performing just as people began to trickle in.
Monae did not benefit from the poor display of her name on the monitor screens. Nor did she have the benefits of special lighting.
After Monae's performance, DJ Skeet Skeet took the stage. Skeet Skeet showed a knack for self-promotion and killed the crowd's energy, giving a seemingly never-ending and slightly mediocre performance.
Finally, the curtains opened, the arena darkened and the show began with a video that set the premise for Perry's show. It told the tale of Katy, a poor girl who works in a butcher's shop for a cruel ogre of a man, and is in love with a handsome baker's son. One day, Katy falls asleep and is taken to the wonderful land of "Candyfornia," where she has to find her cat, Kitty Purry.
The lights came on and the stage was revealed to be a giant version of Candyland, complete with candy cane-colored ramps on each side of the stage, giant lollipops and other candy placed about the stage, a cast of dancers outfitted in outlandishly colorful candy-looking costumes, behemoth screens with cloud outlines that gave close-ups of the action onstage, and more giant, fluffy, clouds outlining the top of the stage.
As soon as the lights hit Perry, the crowd went insane. She opened with Teenage Dream, and she definitely was not the only person in the Sprint Center singing. Perry performed all her hits including, "I Kissed a Girl," "Hot N Cold," "California Gurls," "E.T.," "Ur So Gay," "Last Friday Night" (T.G.I.F.) and "Firework."
Vocally, Perry did a great job. She doesn't have the Britney syndrome where she lip-synchs to all of her songs, but she doesn't have the endowment of Celine Dion, either. Instead, she held her own vocally while doing limited choreography, and whatever she lacked vocally, she made up for in sweat and personality. She moved and danced about the stage constantly with her highly talented and trained dance troupe and had an infectious energy for the full two-hour show.
She even stripped all stage tricks with lighting and electronic music when she performed a set of "Katyoke," a karaoke version with only an acoustic accompaniment of other artists' songs. She sang songs such as Rihanna's "Only Girl in the World," Jay Z's "Big Pimpin'," and Rebecca Black's "Friday."
What was most surprising was how personal she was with the audience. Improvising with an audience is always risky, but Perry pulled it off incredibly well. She bantered with the audience, pulled people from the mosh pit onstage to dance with her, and even took a picture with one of them.
"Here I'll take it," she said when he became nervous with the camera. "My hands aren't shaking."
For her hit, "Waking up in Vegas," she yelled "Who wants some money!" and threw money out into the audience.
She even pulled a boy onstage and gave him a kiss, only after making him pull out his driver's license and show her he was over 18, of course. But the most memorable audience participation of the evening was when she climbed atop a pink cloud and flew out into the floor seats of the audience, while throwing out guitar picks and singing, "Thinking of You."
"No matter where I perform, I always like to get close to my audience," she said.
It was hard to leave the theatre not feeling entertained and like you got your money's worth. Perry sang for more than two hours without a break, and it was clear that she loved her fans. Judging by the ubiquitous blue wigs, tutus and glittering outfits donned in homage to Katy that filed out of the arena after the concert, it wouldn't be far off-base to say they love her too.