Student Organization Profile: SIFE
UMKC adviser Cary Clark speaks at the end-of-year ceremony on April 19. Clark praised the team's achievements, speaking to a large audience that inluded deans, Chancellor Leo Morton and CEOs from several of Kansas City's largest businesses.
A look at last year's highlights and next year's plans to bring success to a whole new level
What other student organization can boast a nationally-televised presentation to China's college elites and regional championship titles three years in a row?
None other than UMKC's Students in Free Enterprise (SIFE) team.
With more than 35 years of history, SIFE founded as a non-profit organization in 1975 at Drury University in Springfield, Mo.
SIFE is an international organization having a total of 39 operating countries including the U.S., China, Mexico, Malaysia, Japan, Germany, Nigeria and others.
The organization can be found on university campuses worldwide, with more than 1,500 operating teams.
The success of the umbrella organization shows in its numbers. The number of active students: 48,000 plus more than 8,700 community projects, more than 4,900,000 community service hours logged, and a worldwide revenue of over $12,800,000.
The purpose of SIFE is to work with community leaders in business and higher education to mobilize college and university students of any field of study and teach them the skill to become leaders of tomorrow.
The UMKC chapter of SIFE has grown more with every year in operation since its inception in the early 2000s.
UMKC SIFE currently has 70 members, and According to SIFE UMKC Advisor and Sam Walton Fellow Cary Clark, the UMKC Chapter is among the top 10 percent of all schools in the U.S. along with schools like Notre Dame, University of Indiana-Bloomington and the University of Wisconsin-Madison.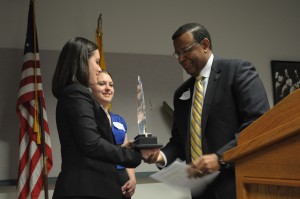 "My heart beats loud for many reasons [one being,] only six years ago, the SIFE team had one person. We now have 70," UMKC SIFE president Beth Larson said. "Every year, our projects get stronger and we become more innovative."
Each year, UMKC SIFE initiates several on- campus and community projects that focus on improving the economic, social and environmental issues that affect people.
This past year, UMKC SIFE led several projects successfully: China business success skills training workshops, Real World U altnerative schools seminars, improvements to the Lykin's neighborhood in Kansas City's Historic Northeast, the U-News SIFE Financial Corner and campus-wide recycling efforts.
One ongoing project, the China business success skills, brings SIFE team members to China to teach business and trade skills to students and strengthen the international language of business.
"The U.S. and China are two of the most powerful economies in the world," Larson said in the winning SIFE presentation at the Chicago regional competition in March. "To share, we must act in partnership and recognize that we depend on each other. This interdependency can be our greatest strength."
The project focuses on the cultural gap between the U.S. and China.
Over the past two years, SIFE has traveled to schools in Beijing, Nanjing and Shanghai to teach students with plans to attend college in the U.S. cultural success skills pertaining to classroom participation and interactions with professors.
SIFE members also taught U.S. history, expressed the diversity of the two cultures, and gave suggestions to the Chinese students on how to become involved as students.
In March, UMKC SIFE took first place in the regional SIFE competition in Chicago.
They returned home and set their sights on winning the national completion in May, where they, unfortunately, did not advance.
UMKC SIFE has many supporters in the community, including many business and political figures.
On April, 19, SIFE celebrated the end of the year with speeches from several important figures, including Chancellor Leo Morton, deans from the Henry W. Bloch School of Management and School of Engineering and representatives for U.S. Rep. Emanuel Cleaver II and newly-elected Mayor Sly James, who were unable to attend.
Many people wished the group well in its success and congratulated members on a job well done.
President and CEO of the Mazuma Credit Union Robert Givens said that UMKC SIFE is fantastic and brings honor to the entire university.
"The Kansas City and UMKC communities have benefited greatly from the SIFE projects and that is the true test of the value that each member brings to the organization," Givens said.
Also showing his support was Bloch School Dean Teng-Kee Tan.
"We are proud of [SIFE UMKC] all the way," He said.
In an email with the U-News, Clark stated he was proud of each member of UMKC SIFE and was amazed at how much the group has grown in so little time.
Clark said the end of the celebration was pivotal and represented the support and success of the team.
"The event was huge," Clark said. He was very grateful to have Morton, Tan and Coputing and Engineering Dean Kevin Truman, who all gave speeches at the end of year ceremony.
It can be said that SIFE has far exceeded the expectations of a student organization.
"UMKC SIFE is proud to represent UMKC and hopes to bring even more positive visibility in the future to the University of Missouri-Kansas City," Clark said.
Larson said SIFE's biggest achievement this year was building a more diverse team.
"In the past we have typically had only Bloch Students, with a few others sprinkled in here and there, that's great because we all have a foundation in the entrepreneurship and business skills that SIFE uses to change the world," Larson said.
However, Larson does not feel SIFE met all expectations this past year. But in light of shortcomings, Larson said the team learned from it.
"The UMKC SIFE team did not meet all expectations last year," Larson said. "We didn't win Nationals, but we learned a lot from other teams that we watched compete and we will have 19 returning members that went to competition that have a full understanding of SIFE."
Larson has many goals and expectations for the upcoming year.
"My expectations for the UMKC SIFE team for the next year are the following: to be a team of 100 members strong, recruit at least 30 new members," Larson said.
Other goals for Larson include winning Nationals and making a positive impact in the community through projects that fit SIFE's mission.
If you are interested in learning more about SIFE, contact Larson [email protected] or Recruitment Director Jody Pope at [email protected] .