Roxy Paine branches out in KC
'Ferment' sculpture of a 'Deondroid' insalled in the Kansas City Sculpture Park at the Nelson-Atkins
Symbolic tree sculpture joins Nelson-Atkins sculpture garden
As of April, the Kansas City Sculpture Park at the Nelson-Atkins Museum has a new permanent addition. The 56-foot-tall stainless steel sculpture "Ferment" is the work of internationally- acclaimed artist Roxy Paine.
At first sight, "Ferment" looks like a gigantic silver shining tree, but Paine rejects the term tree for its exclusiveness.
"Actually 'Dendroids' is what I call them, because to call them trees is selling them short," Paine said.
"Ferment" belongs to a series of Paine's sculptures collectively titled "Dendroids."
The term dendroid means tree-like in form and branching structure. According to Paine, this also includes references to the neural network's branching, or river systems.
The name "Ferment" stems from the process of fermentation, the conversion of sugar into alcohol by yeast or bacteria. However, Paine sees fermentation as a metaphor for mental processes.
"I was trying to create this turning, swirling, very dynamic force," Paine said. "(It is) almost uncontrolled, but then it's frozen in this material that is extremely stable, extremely hard."
Jan Schall, a Sanders Sosland Curator of Modern and Contemporary Art at the Nelson-Atkins, considers Paine one of the most important young sculptors today.
"(Paine) is very interested in nature," Schall said, "but of course he is very interested in culture and technology and the way in which those two interact and are intertwined. You cannot really separate culture from nature anymore. Our technology is always impacting nature and nature is always impacting us."
The installation of "Ferment" celebrates the work of Martin Friedman, who served 20 years as the Hall Family Foundation consultant for the museum's Sculpture Park.
In 2009, the Hall Family Foundation decided to honor Friedman's contribution by funding an art piece of his choice.
"He immediately chose Paine, whose work he had long admired," according to a Nelson-Atkins press release.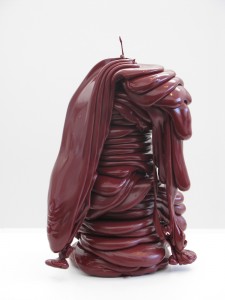 Paine believes that "Ferment" is a very fitting honor to Friedman's work.
"You know he's devoted his life to bringing ideas into the public eye," Paine said. "I think fermentation is a fitting metaphor for his life as well."
Paine aims to understand nature on a deeper level.
"It's not my intention to make realism, but it is my intention to take these ideas as far as I possibly can," Paine said.
"Paine has 24 dendroid sculptures in North America and around the world, including Israel and Australia," according to a Nelson-Atkins press release.
Several of Paine's dendroid models are temporarily on display in the Bloch Building of the Nelson-Atkins. Along with the "Dendroids," the Bloch Lobby also exhibits Paine's sculpture-making machine, "Scumak."
"Paine developed the "Scumak" to remove the artist's hand from the creative process, replacing it with a computer program that he designed," according to the Nelson-Atkins press release. The machine "melts plastic polyethylene beads with pigment and periodically extrudes them, creating unique, bulbous-shaped sculptures."
The "Scumak" should create close to 42 sculptures over a period of four months. All of the mechanically produced sculptures will be on display on pedestals in the Bloch Lobby until Aug. 28, 2011.
To promote creativity, the Museum Café in the Bloch Building transformed into The Creative Café. Here, all visitors can use computer touch screens and turn their own inspiration into art.
In the same spirit, the Nelson-Atkins collaborated with VML, a global digital marketing agency, and created a living art project titled "Branch Out."
"We want to take the inspiration and let it branch out," a Nelson-Atkins press release said. "The hope is to create an organic, open-ended, interactive experience."
In the "Branch Out" project, visitors come to the museum's Sculpture Park and access http://nelson-atkins.org/branchout using a Smartphone. The website automatically detects their location at the park. Then it prompts them to branch out by passing the inspiration on to their friends via Facebook or Twitter.
From there, friends can view the branch and continue to branch out via a smart phone or a computer.
"If the pieces can instigate thought and reflection, that's part of my goal," Paine said. "The joy is in seeing something [that's] only an idea to become physical reality."