There's a new chief in town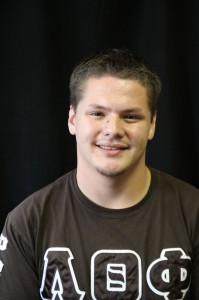 Hello UMKC community and beyond.
Wow, I can't believe someone like me could ever be in this position, a position of leading, educating, informing, managing, facilitating and growing as a professional individual.
I am both honored and excited to announce that I will be the Editor-in-Chief (EIC) for the 2011-2012 academic year for The University News.
Serving as the EIC is both daunting and fulfilling at once. It only seems like yesterday when I came to UMKC, starting as a film student, not having a clue of what the world had in store.
I can remember contacting Derek Simons, the U-News EIC in the fall 2007, about photography.
I was so nervous to pursue a professional field, so making the call was kind of scary.
Never would I have known I too would soon be captain of the ship that is U-News. I can't help but look back to when I was reluctant to write, thinking I had no ability to do so. Was I wrong? That's for the reader to decide.
In my time at UMKC, four years and counting, I have learned and experienced more than I could have imagined. The same can be said in my years writing and editing for U-News. This publication truly is a medium of learning. I encourage everyone, no matter what your major is to see what I am talking about.
Like my first EIC at U-News, Hilary Hedges, and my sensei Melissa Oribhabor, and every EIC before me, I will make U-News all it can be, a newspaper that readers can be proud of. A paper that is regularly picked up by all to read the latest News, Arts & Entertainment, Sports, and Forum topics put together by a passionate and diverse staff of student journalists.
U-News already is a great paper featuring great people and current issues in the community, I just intend to make it even better.
It is my priority to uphold and reinforce the 78 years of tradition established in 1933 by both the founders of UKC and The University Crest, (U-News) through this publication. It is important to use visual supplements such as a collegiate newspaper to show our school pride and in doing so show the community and the rest of the world that this truly is a great university. I want to thank all of our current and future readers for supporting U-News.
You all truly reinforce the passion that each and every one of our writers has within them.