Students and faculty have mixed feelings about graduation venue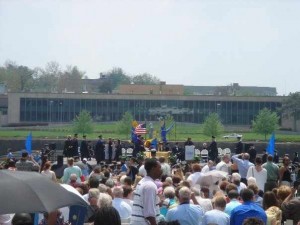 The venue for graduation has not always been Swinney Recreation Center.
In spring 2006 and 2007, UMKC held campus-wide commencements, including all schools of study, at Theis Park.
Since the location was discontinued in 2008, the College of Arts and Sciences (A&S), Bloch School, School of Computing and Engineering, School of Dentistry, School of Education, School of Law, School of Nursing and School of Pharmacy have all moved commencement ceremonies to Swinney Recreation Center.
The Conservatory of Music and Dance and the School of Biological Sciences hold commencement in the White Recital Hall of the James C. Olsen Performing Arts Center.
The School of Medicine holds commencement in the Nelson Atkins Museum of Art.
Theis Park, at Cleaver II Boulevard and Oak Street, faces the front lawn of the Nelson-Atkins is known to many as Volker Park.
Swinney Recreation Center is next to the University Center.
According to Swinney Recreation Center Director Marsha Pirtle, the gymnasium usually accommodates 2,500 people on graduation day.
"[The] bleachers hold 1,400, that's 700 on each side, and then we drop about 1,100 chairs on the floor in between," Pirtle said.
Associate Dean of A&S Thomas Sandreczki explained several reasons for the change.
First, the school-wide commencement was too large.
"Because of its size, that commencement included giving diplomas only to 'representative' students from the various academic units," Sandreczki said. "There was no provision for every student to cross the stage."
To honor students individually, many colleges would hold complementary ceremonies in addition to the campuswide one.
Second, the complementary ceremonies would take place in Swinney, but because they were considered secondary, Swinney assessed a fee to colleges who wanted to rent the main gymnasium space.
Sandreczki said Swinney no longer charges A&S for commencement.
"The college-level commencement is essential in the absence of a campus-wide ceremony," Sandreczki said.
The weather has always been a concern.
"I think we all liked the beauty of the outdoor venue," Sandreckzi said, "but weather was always a hidden fear."
"The last year, I think, that we were there, the lawn was extremely muddy because of precipitation earlier in the week," Sandreczki said.
Distinguished Professor of Philosophy and Law and former provost Bruce Bubacz views the situation differently.
"They were very popular with graduates, faculty, families and friends," Bubacz said.
They stopped holding these ceremonies for financial reasons.
"Weather was never a major factor," Bubacz said.
Bubacz went on to explain the first commencement in 2006 was "quite chilly but no one cared, the excitement warmed everyone."
He explained that the Student Affairs Office conducted a survey to determine if students wanted to keep the unified ceremony, and found that students did not.
After talking to students, Bubacz found none of them knew what the survey meant by unified ceremony.
Bubacz believes the survey did not accurately reflect what students wanted, calling it "bogus."
"In short, we stopped holding the unified ceremony because the university was unwilling to commit the funds," Bubacz said.
Students have mixed feelings about where graduation should be held.
Graduating chemistry major Emma Frank said she would prefer an outdoor ceremony.
"I would have really liked my graduation to be at Theis Park," Frank said. "Graduation, of all occasions, is a time I'd like to look around and be proud of where I went to school, and Swinney just doesn't have the same Kansas City atmosphere as Theis Park."
Creative writing graduate student Jimmy Grist graduated last spring.
"[A&S] tried to make it feel formal even if its not really nice where the ceremony is," Grist said. "It is nice, though, when you come outside to the area with the large yellow statue and the green lawn. It's not like you walk out on to noisy, crummy city streets."