Michael Lillis began his rugby journey at Rockhurst High School, where he was first introduced to the sport by friends while running track and field. 
  "I used to watch rugby matches on TV all the time, so I had a good understanding of the sport," Lillis said. 
  Growing up, he idolized international rugby player Danny Grewcock, an English lock. Grewcock is characterized as a dirty player who gained notoriety for receiving red cards as he physically mauled opponents.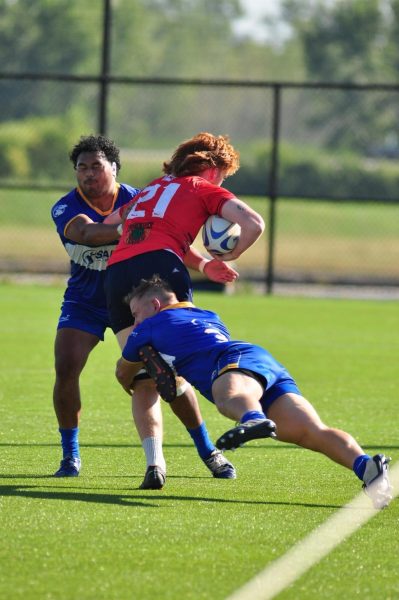 "His unruly behavior and reputation made me want to watch all his old matches," Lillis said. "Guy was the Luis Suarez of rugby."  
  The shift in sports from track to rugby occurred when Lillis, "got tired of mindlessly running all day." After hearing stories from his friends about their team trips out of town, he decided to join the Kansas City Jr. Blues Rugby Club. 
  It was then Lillis discovered his true passion and embraced rugby along with its social aspects, which included exorbitant partying. 
  Lillis shared memories about team events and outings like beer-drinking Olympics, visiting local gentlemen's clubs and high-stakes gambling sessions at casinos in Oklahoma. 
  However, the shenanigans did not stop in high school. In college, his Blues teammates nicknamed him "Baby Feet." This trend originated when Lillis, while attempting to join other mates on a house rooftop for beers, received a boost from a former member named Jacobi, who is known for being a germaphobe. 
  The story unfolded as Lillis stepped onto Jacobi's hands, and he was instantly repulsed by Lillis' grimy, pudgy bare feet. 
  "I almost puked when Michael's plump baby foot stepped on my hands, but I still assisted him up there like a good teammate would," Jacobi said. 
  Lillis joined the Blues Rugby Football Club right out of high school and continued his rugby career as a hooker. This position specializes in throwing the ball inbounds during lineouts and plays an integral role within scrums, by securing possession of the ball.
  Lillis appeared in a home game as a starter on Sept. 30, which was a nail biter against Metropolis RFC from Minnesota and resulted in a victory with a final score of 38-27. 
  Having largely left the party scene in his past, Lillis continues to have a passion for rugby and the community surrounding him. 
  To see the upcoming schedule for the Blues RFC games and watch Lillis perform, click here 
  KC Blues home matches are located at the Kansas City Current complex.