Good night and good luck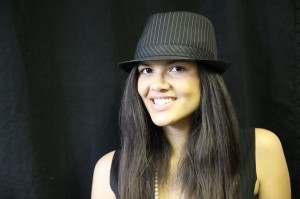 When I came to U-News in the fall of 2009, I did not know if I would be any good at journalism, and I did not know if I would like UMKC. What I did know was I wanted to be a journalist more than I had wanted to be a store manager at Victoria's Secret, a health teacher, professional rollerskater, gymnast, Mrs. Isaac Hanson or the myriad other goals I'd had in my life.
Working as a reporter for U-News turned out to be one of the most fun jobs I have ever had, and I've had plenty, but working as the Editor-in-Chief of U-News turned out to the hardest, most stressful, emotional, disheartening, frustrating, empowering and rewarding job I could ever have.
During my time as the head of this publication, I have witnessed the best in people, and quite often the worst in people, but both experiences were important in developing an accurate idea of what a job like this entails in the real world.
People are not always nice, and frequently I am not nice. But when people were great, they could be just down right amazing. I have been shocked by the kindness and intrigue I see in so many people at this school.
UMKC is filled with some of the most passionate and brilliant students and professors who challenge and inspire us every day.
When I started UMKC, I only had one goal: to take the necessary steps to get into graduate school to study journalism for fall 2011. So I did. I took the right classes, got good grades, worked for the campus newspaper and met great people who could write me letters of recommendation.
I accomplished this goal, and I will be attending Mizzou this fall to get my Master of Arts in Journalism. But when I graduate May 6 and leave UMKC, I can say I accomplished more than I set out to.
I made some amazing friends, who continue to surprise me with their support and drive; I learned to balance school and work and more work and life, all on very little sleep. But more importantly, I learned no matter who you are, what you do for a living or how hard you try, you can never please everyone.
Especially in this business, someone will always disagree with your decisions and it's not your job to appease them. It's your job to do the best you can with what you have. And, make sure you approach your options and your life with compassion and an open mind so you can choose the one that is right – not the one that is the most comfortable or will result in the least amount of push back. Always aim to do the right thing and tell the truth so no matter how upset people get, and you'll be just fine.
No one's perfect, I certainly am not. And, I have made mistakes. Mistakes I corrected and now going into my life post-UMKC, I know how to prevent such mistakes so they will not happen again.
This experience at UMKC, U-News and living in Kansas City would not have been as great had I not had a great support system. To name a few, Fred Wickman, Robert Unger, Jill Jensen, Joel Jenkins, Alexia Lang, Hilary Hedges, the Board of Publications, the U-News staff and of course, my successor Mark Linville, who will know exactly what I'm talking about a year from now when it's his turn to say goodbye, as well.
Thank you everyone for a great couple of years at U-News. It wasn't always easy, but it was definitely always worth it.
See you in the funny pages.