From the NFL Draft to Exciting Exhibits, A Roo Makes Dreams Come True
How a former UMKC Student is in the Business of Making Memories
  As our interview concluded, UMKC alumni George Gaustello asked me when I last visited Science City. I told the well-dressed, high-energy, 1982 graduate about an amusing school field trip in sixth grade. 
  Gaustello simply replied, "Follow me." 
  While the president and CEO of Union Station is insanely busy with the arrival of hundreds of thousands of visitors for the 2023 NFL Draft, he still made time for a fellow Roo.
  We walked from Parisi Cafe to the entrance of the colorful 100,000-square-foot National award-winning hands-on science center. After a warm conversation with the ticket booth worker, I followed him into the main attraction. As he told me about the things I missed, I watched a man who looked happy, speaking with pride. 
  After we gazed at the spacious room where children roamed, Gaustello told me why he brought me into the area. He wanted to create a memory for me, just like he did when I came here nine years ago.
  Since his start in 2008, Gaustello and over 50 full-time employees strive to make lasting memories for visitors each time they enter the iconic location that just so happens to be 15 minutes away from his alma mater. 
  Before he was wrangling in fascinating exhibits and events, Gaustello started his career at the UMKC Bloch School, learning from people such as Dr. Eleanor Schwartz and Professor Joseph Singer. With the knowledge he received, he was able to reach new heights in his career.
  "UMKC was the rich soil that allowed my seed to grow," Gaustello said. 
  His love for entrepreneurship in college steered his life to exciting opportunities, including the American Royal Association, Starlight Theatre, the Greater Kansas City Chamber of Commerce and Commerce Bank. 
  While each job had its difficulties, Gaustello faced his most momentous challenge in December 2008. Union Station was on the brink of bankruptcy and was over $10 million in debt. There was legitimate concern that the elegant brass doors would stay locked forever. 
  Thanks to his commitment to creating memories, the Kansas City staple now thrives, with help from numerous business leaders including former chairman Bob Regnier and Mike Haverty, donors and foundations plus an amazing team many of which are UMKC grads. 
  "It's about that father with his Daughter, looking up at [the Union Station Historic ceiling] and having that moment," Gaustello said. "So, when her dad is gone, she'll never forget that moment or memory. It's our job to save those memories and create them." 
  Gaustello now has the opportunity to build special experiences for over 300,000 people expected to attend on April 27-29, as the NFL Draft will set its stage in front of Union Station. With millions of people watching on TV, Gaustello hopes his work hosting the NFL Draft will continue to positively impact the city where he grew up. He even teased that Union Station is in a unique position to acquire some of the largest exhibitions yet.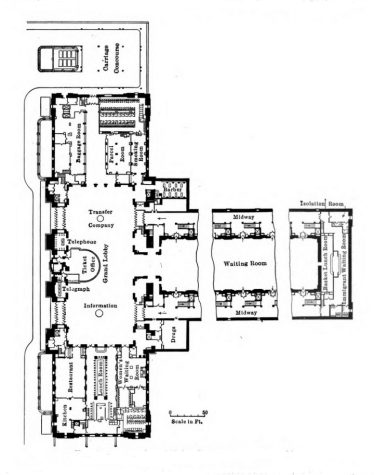 "What we're doing today will set the stage for us to get things Kansas City has never seen," Guastello said. 
  While he works hard to make Union Station a special place, his memories and the building itself drive his work ethic.
  Where the Model Railroad Experience Room now resides, there once was an actual waiting room for immigrants in the early 1900s. They were not allowed to walk through Grand Hall, as only citizens could wait there. Today, walking through the enormous corridor he is reminded of his grandparents and his Italian heritage, which inspires him to make dreams come true.
  "A commitment to education, hard work, and all the things UMKC allowed me the opportunity to walk on those floors freely, to make a difference in other people's lives," Gaustello said.      
  Gaustello took a dying train station and nurtured it into a flourishing hub that prospers on the memories of those who visit, people like me.