Transfer Portal Packed with Roos, as Three More Players Exit the Program
After a Rocky Season, Kansas City Will Enter a Lengthy Rebuild
Three more players will not return for the Kansas City Roos' women's basketball team for the 2023-2024 season. 
  Sophomore guard Ava Murphy, sophomore center Trinity Moreland and senior guard Sanaa' St. Andre will look to play for other teams in the NCAA. 
  Heat Check's transfer portal list, created by college basketball journalist Talia Goodman, provided a master list of over a thousand available student-athletes who are free to commit to any school. The register included numerous Roos. 
  Kansas City Athletics' Communications Director Jerod Fox confirmed the reports.
  In total, 10 players left the program in under a year. Two Roos will be graduating, four left due to personal choice and four are transferring to other colleges. 
  St. Andre announced her departure via an Instagram post on April 14.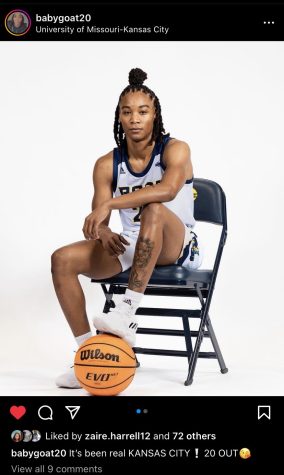 In a statement made to Roo News, she believed that this year was the best time to leave. "I wanted to be closer to family and enjoy being somewhere with good people for my last two years of college basketball," St. Andre said. "I really enjoyed Kansas City and had some amazing times here, but I think it's time for me to leave."
  The shifty guard signed on with Kansas City when Jacie Hoyt coached in 2020. Her role with the Roos ballooned when Head Coach Dionnah Jackson-Durrett arrived. While a scary head injury in late December stopped her from playing for months, St. Andre averaged 13.3 points per game and collected 39 steals in 19 appearances.
  While they didn't have eye-popping stats in their first year, Jackson-Durrett relied on Moreland and Murphy late in the season and during the Summit League tournament. Murphy filled in while St. Andre and graduate guard E'Lease Stafford recovered from long-term injuries. Moreland found herself in the rotation after numerous players did not travel to Sioux Falls due to illness. 
  Kansas City Athletics declined to comment on the players' departure. 
  This upcoming season will be another tough test for Kansas City. With a plethora of players exiting during and after the 2022-2023 season, fans will see a brand new roster on the Swinney Recreation Court for this upcoming year.