Professor Profile: Dr. Jane Greer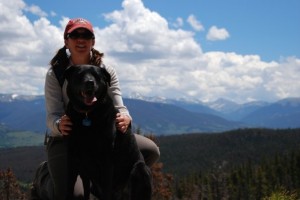 Associate professor of English and Women's and Gender Studies Dr. Jane Greer grew up in Chillicothe, Ohio.
She earned her Bachelor of Arts in English at Hanover College, and earned her M.A. and Ph.D. at Ohio State University.
She is a loyal Buckeyes fan, runner, skier, yoga participant and proud parent to her beloved dog Lizzie.
She was a Girl Scout throughout high school and attended several events such as sailing in the Bahamas, but one event in particular planted a seed that would eventually culminate into a gratifying career as an English professor.
A Girl Scouts leader at an event asked everyone to imagine if they had won the lottery and what they would do for fun to fill their days.
"My answer was that I would want to spend my time reading and talking to people about books," Greer recounted. "So who gets paid to read and talk about books? English professors!"
No one in her family went to graduate school, but eventually she figured out she could do it. She realized what she excitedly helps students recognize: the possibilities are endless.
"Dr. Greer is a very encouraging instructor," former student Renata Shuklaper said. "She works with each individual student on improving their weaknesses while applying ample attention to their strengths. She is a joy to be around and my success is a reflection not only of the hard work that I have invested but the time and effort she took to make an impact on my life."
In addition to teaching English and Women's and Gender Studies classes, Greer also serves as the Editor of the peer-reviewed journal "Young Scholars in Writing: Undergraduate Research in Writing and Rhetoric" and University Liason to Southwest Early College Campus.
Her teaching expertise and continual research focuses on rhetoric, composition, literacy studies and women's studies. The courses she teaches typically educate students on the literacy practices of girls and women, specifically in a variety of rhetorical spaces.
She has also edited the book "Girls and Literacy in America: Historical Perspectives to the Present" and authored many articles published in several edited collections.
Despite her continuous devotion to research and adoration for digging into archival material, Greer is always passionately dedicated to teaching.
Greer's students see her as a mentor. She recognizes a few of her own mentors as Mrs. Honnold in her high school, Dr. Ferguson at Hanover College and Jim Phelan and other faculty members and peers at The Ohio State University.
"It's students at UMKC and the amazingly strong and persevering students at Southwest," Greer said, "who keep introducing me to new ideas and who inspire me to keep asking questions about how people change the world with words."
"She is a super energetic, knowledgeable and supportive professor. She gives her students constant encouragement, which in turn inspires them to pursue their research outside of class," said former "Young Scholars in Writing" editorial Intern Elaina Newton.
Dr. Greer encourages students to explore undergraduate research and is a leading mentor in students' research projects in the humanities.
Former students' testimonies are unanimous in describing the life-changing experiences made possible by classes with Dr. Greer.
Despite her dedication to research in women's and gender studies and rhetoric and composition, the hours she spends working with Southwest High School, editing an academic journal, the extracurricular activities that come with being a professor such as attending conferences out of state, she has sustained a high level of dedication to the academic success in students' lives—all with unparalleled energy and zeal.