An 'Ironic' 'Masquerade' on 'Solsbury Hill'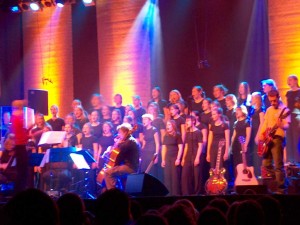 There are few things more amusing than to hear a Metallica song performed by a choir.
Scala & Kolacny Brothers of Aarschot, Belgium, is a choir of people of all ages and gender.
The most awesome part of Scala is not their uncanny ability to harmonize, but their choice to perform chart-topping hits.
One would never expect a choir of this caliber to sing Nirvana's biggest hit from 1991, "Smells like Teen Spirit," nor would you think to hear Radiohead's "Creep."
Scala & Kolacny Brothers were formed by Steven and Stijn Kolacny, the Kolacny Brothers.
The choir was formed in 1996.
In 2000, Scala won the Belgium "Choir-of-the-Year" contest.
Since 1996, Scala has been producing original tracks and, even better, covering hits from artists Alanis Morissette, Foo Fighters, U2, Kings of Leon, Oasis, Peter Gabriel, Puddle of Mudd, The Police and Muse.
Their 2011 self-titled album marks their sixth release world-wide.
Scala is sort of mysterious and rather tricky.
At first listen, you hear very soft and angelic vocals coming from a pleasant blend of alto and soprano.
Scala may appear to be odd at first, mostly due to the fact they are a choir dropping the F-bomb, but once you begin to listen, will become intrigued by their sound.
To hear the intrigue of Scala & Kolacny Brothers, visit www.scalachoir.com or listen to them on YouTube.