Campus History: Greek life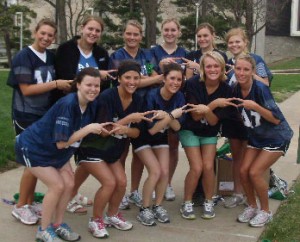 The history of Greek life at UMKC dates back to 1952, when Alpha Phi Alpha Fraternity Incorporated was formed.
Since then, male and female students alike have decided to "Go Greek."
Over the past 58 years, 28 Greek-lettered social organizations have come and gone.
UMKC is currently home to16 different sororities and fraternities, each with its own unique identity.
Fraternities and sororities at UMKC promote brotherhood, sisterhood, leadership, community service and scholarship.
The history of Greek life in North America dates back to Dec. 5, 1776, when Phi Beta Kappa was founded at the College of William and Mary in Williamsburg, Va. The creation of this society was the beginning of what later became the Greek System.
Each organization uses Greek letters in the establishment of its name. The adoptions of Greek letters was influenced by ancient Greek legends. Originally, with the use of Greek letters, fraternities sought to adopt a degree of secrecy and distinction that identifies the Greek system.
In 1851, Alpha Delta Pi was founded by Eugenia Tucker, and it soon became the first secret society for women.
And at UMKC since 1952, fraternities and sororities have contributed greatly to student life, offering students a well-rounded and extra cirricular college experience. These organizations contribute to society through their philanthropic and community service projects.
They also benefit students by providing them an exceptional social experience, providing them values, helping develop their potential through leadership and scholarship opportunities, and giving them a feeling of belonging.
At UMKC, the 16 fraternities and sororities fall into three governing councils.
The North-American Interfraternity Conference (NIC) was founded in 1909. It represents 73 international and national men's fraternities with approximately 5,500 chapters and 300,000 members in more than 800 campuses across United States and Canada.
The Interfraternity Council (IFC) includes Beta Theta Pi, Lambda Chi Alpha, Sigma Alpha Epsilon, Sigma Phi Epsilon and Lambda Theta Phi.
The National Panhellenic Conference represents 26 sororities in 655 universities campuses across the United States and Canada. It was founded in 1902, and it is one of the oldest and largest women's membership organization.
UMKC's Panhellenic Council members are: Alpha Delta Pi, Chi Omega, Delta Zeta and Alpha Sigma Alpha.
A third council, the National Pan-Hellenic Council, was founded in 1930 at Howard University, in Washington D.C. It is an organization of nine, known as the devine nine historically African-American, international Greek-lettered fraternities and sororities.
Alpha Phi Alpha Incorporated, Phi Beta Sigma Incorporated, Delta Sigma Theta Incorporated, Kappa Alpha Psi Incorporated, Zeta Phi Beta Sorority Incorporated, and Sigma Gamma Rho Sorority Incorporated all fall under this council.
One sorority, Delta Rho, is local and was founded in 1989. As a local sorority, Delta Rho does not have a national governing office and it does not fall under a national umbrella organization like the three governing councils at UMKC.
Each fraternity and sorority has its own history, values, principles, recruitment process and activities. If you are interested in joining or learning more about each of these organizations visit www.umkc.edu/getinvolved/fraternity-sorority-affairs.asp.
Greek timeline at UMKC
1952 – Alpha Phi Alpha Fraternity, Inc. chartered
1956 – Alpha Epsilon Pi chartered
1956 – Delta Chi chartered
1956 – Tau Kappa Epsilon chartered
1961 – Chi Omega chartered
1962 – Alpha Delta Pi chartered
1967 – Sigma Delta Tau chartered
1969 – Sigma Tau Gamma chartered
1971 – Sigma Delta Tau closed
1972 – Alpha Epsilon Pi closed
1972 – Zeta Phi Eta chartered
1973 – Phi Beta Sigma Fraternity, Inc. chartered
1974 – Delta Sigma Theta Sorority Inc. chartered
1974 – Zeta Phi Eta closed
1976 – Lambda Chi Alpha chartered
1977 – Sigma Phi Epsilon chartered
1980 – Tau Kappa Epsilon closed
1982 – Sigma Gamma Rho Sorority, Inc. chartered
1987 – Delta Zeta chartered
1987 – Kappa Alpha Psi Fraternity, Inc. chartered
1989 – Beta Theta Pi chartered
1989 – Delta Rho established (local sorority)
1991 – Sigma Tau Gamma closes
1992 – Alpha Kappa Alpha Sorority Inc. chartered
1998 – Beta Sigma Phi chartered
2002 – Delta Chi closed
2005 – Phi Beta Sigma Fraternity Inc. reactivated
2006 – Sigma Alpha Epsilon chartered
2006 – Zeta Phi Beta Sorority, Inc. chartered
2007 – Sigma Gamma Rho Sorority, Inc. reactivated
2008 – Lambda Theta Phi Latin Fraternity, Inc. colonized
2010 – Alpha Kappa Alpha Sorority, Inc. suspended
2010 – Alpha Sigma Alpha colonized
2010 – Lambda Theta Phi chartered
2011 – Alpha Sigma Alpha chartered