Girl Gains is Connecting with Women Across Campus
Creating a community of support and positivity for students who want to grow in their fitness journey
  As a weight lifter, junior Makena Martinez didn't have much use for the comments: "You're getting too big."
  "You don't want to look like a man!" or her favorite, "That body type isn't feminine or attractive." 
  In response to these and other demeaning comments she heard at Swinney Recreation, she wanted to create an inclusive environment for women on campus. Martinez became president of Girl Gains at the beginning of 2023. and strives to provide representation of women who enjoy working out.
  The organization focuses on bringing together women who spend time in the gym and works to implement a safe, judgment-free zone.
  Since its creation in 2020, Girl Gains has rapidly expanded to more than 80 chapters around the United States. The UMKC chapter started in the fall of 2022 and has since grown to more than 230 members.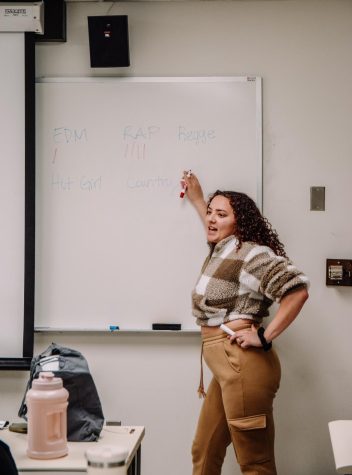 Girl Gains hosts meetings ranging in topics from playlists, to conquering gym anxiety, nutrition, and body image. The members can post their workouts through the Girl Gains Instagram account to give others tips and advice for their workouts.
  Martinez worked out in the gym for years, but the establishment of the chapter on campus has provided her with a network of other women to connect with. 
  "It's okay to be nervous," Martinez said. "I still get nervous sometimes, the gym is very intimidating, but it's just about not letting the fear of something happening keep you from the gym."   
  Martinez wants people to know that Girl Gains is a tight-knit group that accepts all women- no matter where they are in their workout journey. 
  The club puts a spotlight on the importance of mental health, especially during school. They emphasize that health and learning how to work out is a process that requires support from others in the community. 
  "It doesn't just help me physically to go to the gym. More than anything, it helps me mentally," said Emely Lopez, the director of marketing for Girl Gains.
  Lopez, a senior majoring in biology, shared that finding the balance between work, school and the gym was difficult initially. After finding her groove, she enthusiastically embraced the gym and prioritized it in her daily life. 
  "Moving is what matters," Lopez said. "Everyone has to start somewhere."
  The newly-minted group aims to add a locker room in Swinney for women and members of the organization. It would include menstrual products, barbell pads and other items that aren't accessible at the service desk. 
  To keep up with Girl Gains, check out their Instagram or their Roo Groups page.