UMKC Student Film League Revived by a Group of Student Filmmakers
Four UMKC students have revived the recently disbanded Student Film League to share their passion for film
  The UMKC Student Film League is reestablishing after disbanding in 2021 to stimulate an environment for student filmmakers, film enthusiasts and anyone that likes movies. 
  The new board is made up of film students Park Zebley, Abby Marx, Rey Dean and Parker Elliot, and they have high hopes for the once-beloved Student Film League (SFL). 
 "Professor Mitch Brian gathered as many film students as he could find at an end-of-year celebration and asked us if we wanted to start the organization," said Zebley, the president of the Student Film League. "All four of us raised our hands, and it was settled."
  The board is seeking to create an inclusive environment open to all. Additionally, students want a place to enjoy movies, have conversations about film, and most of all, foster true connections.
  "You can just join because it's something you're curious about," said Dean, the outreach officer. "The last thing we want is to be elitist or exclusive to students who have the potential to succeed."
  Each board member brings a new perspective and their own film experiences to the league. 
  "The film space has been exceptionally healing and filled with love and trustworthy people," Dean said. "I've met close friends through this program so I would say I've had a good time."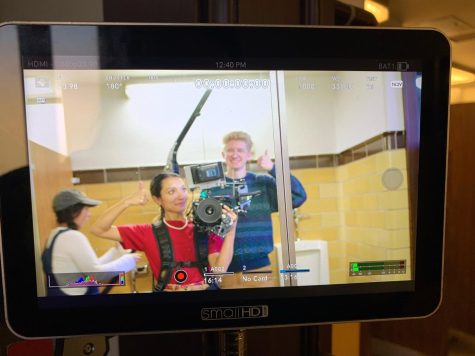 Alongside the revival of the league, Kansas City was named one of the best places to live and work as a filmmaker, specifically for the up-and-comers
  "Being a young filmmaker in Kansas City means you get to connect with so many other artists and people working in the industry that share your goals and your love for the medium," Zebley said.
  Home to Walt Disney and the Historic Film Row, Kansas City has always been involved with the film industry. The members of the SFL are excited to be where they belong. 
  "I feel like everyone in the Kansas City industry is connected. That means there's a lot of camaraderie and not as much competition as there is in LA or New York," Zebley said. "For every person who disregards you, several want to see you succeed."
  The SFL is seeking to use this idea as a way to encourage more students to join. The students within the league are excited to share their experiences with others and keep the film environment thriving.
  "Being a student filmmaker is all about perseverance [and] pushing through the moments you think you can't make it big," Elliot said. 
  Most of all, the SFL wants to create a space for all students to feel as though they belong, because as Dean said, "film is never a one-man job." 
  SFL will meet every two weeks starting on Feb. 8 at 5:30 p.m. in the Fine Arts Building, room 305. 
  One of their first events is a movie night at Screenland Armour on February 11th. UMKC students can purchase BOGO tickets to see The Cook, The Thief, His Wife & Her Lover.