The 'Fabulous Month O' Gaypril' Events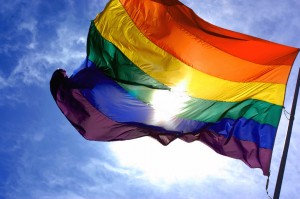 UMKC's Queer Alliance presents their second annual "Fabulous Month O' Gaypril."
"This is our second year doing full on Gaypril," said Queer Alliance Vice President Sarina Smith. "We really want to show people that we are here and are really active on campus."
The Queer Alliance is hosting plenty of exciting, informative and social events that you will not want to miss this month, ranging from a "Sexy Carnival" to show awareness to a drag show that will support a cause.
Here is a list of upcoming Gaypril events:
April 12 – "Glee" Night
Watch the famous musical television hit "Glee" from 7-8 p.m. in the Rainbow Lounge in the Student Union.
April 13 – Ally Day
Tie Dye, karaoke and free stuff will be given out to show appreciation to allies of the Queer Alliance. Stop by from 11 a.m. to 3 p.m.
Stop by between classes for some fun, this will be located at the University Play House.
April 14 – Pool Party
Splash around at the pool party located in Swinney Recreation Center from 8-10 p.m.
April 15 – Breaking the Silence
The Breaking the Silence rally starts at 4 p.m. on the corner of the J.C. Nichols Fountain.
Relay for Life
The American Cancer Society Relay for Life starts at 6 p.m. on the University Play House walkway.
Sexy Carnival
The Sexy Carnival is hosted by "Awareness is Sexy" and is an educational event as well as an exciting one with the promises of a lube slip n' slide, so you bring your swimsuits.
The excitement will start at 8 p.m. at the Beaumont Club.
April 18 – Picnic
Enjoy a picnic from noon to 1 p.m. at the University Play House.
April 20 – Cabaret
A drag and variety show that will take place in the Pierson Auditorium from 7-9 p.m. Donations will be accepted for the AIDS walk. Contact the Queer Alliance if you are interested in being a performer in the show.
April 21 – Young and Trans
This support group will be from 5 -7 p.m. in the Rainbow Lounge.
April 22 – Kickball
This classic game will be from noon to 2 p.m. held in the Quad from.
Excellent Pink Friday
Members of the Queer Alliance will be hosting this event and sharing their talents. If you have any live music or poetry you would like to share, feel free to come by Jazzman's in the Student Union at 3 p.m. New officers will also be announced at this time.
April 25 – AIDS Walk Bake Sale
Buy tasty homemade snacks while helping a cause from 11 a.m. to1 p.m. in Royall Hall.
April 29 – "The L Word" Marathon Sleepover in the Lounge
This television drama starts at 7 p.m. in the Rainbow Lounge.
April 30 – AIDS Walk
The walk starts at 8 a.m. in Theis Park at 47th and Oak Streets, across from the Nelson-Atkins Museum of Art.