UMKC Outreach and Engagement Committee Participate in Harvesters Volunteer Day
Harvesters and UMKC Teamup Around Turnips
  Turnip that frown upside down; UMKC students, faculty and families gave back to their community on Jan. 28 at Harvesters Volunteer Day. 
  Once a year, the Outreach and Engagement Committees at UMKC organize a volunteer day with Harvesters to give others the opportunity to serve their community. 
  Everyone joined the Roo team in the warehouse, where they packaged thousands of pounds of turnips. Over two hour shifts, volunteers got to know one another and connect with members of their community they wouldn't have otherwise. 
  "Food that might not normally be purchased is not being wasted," said Stephanie Stewart Towns, a volunteer and member of the Outreach Committee. "It is going to people in need."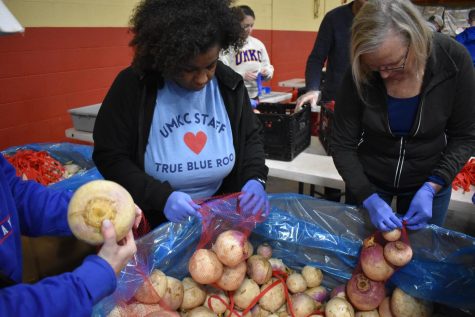 A total of 760 nonprofit organizations receive food and household products from Harvesters, including emergency food pantries, community kitchens, homeless shelters and facilities, children's homes and more. Harvesters also provides programs to educate the community about the importance of good nutrition and hunger.
  Kelly Freelind, a family nurse practitioner in the Student Health and Wellness Center, also enjoys volunteering because it makes her feel like she's doing something worthwhile.
  "Harvesters is a great organization that supplies a lot of other non-profit agencies," Freelind said. 
  Laura Moore is a senior project coordinator of the Outreach Committee and helped organize this Harvesters Volunteer Day. Moore is no stranger to volunteering throughout the Kansas City area and has worked with Harvesters a handful of times. 
  "I've had nothing but great experiences with Harvesters; they make it very easy to volunteer,"  Moore said.  "[They have] lots of opportunities for groups to get involved and not feel like you have to have a certain skill set." 
  With every opportunity, volunteers directly contribute to the well-being of their community by sorting nonperishable goods in the warehouses, serving meals, and distributing groceries. No matter skill or experience level, there is a place for everyone at Harvesters. 
  Harvesters is located at 3801 Topping Avenue and their website can be accessed here.