Women's soccer review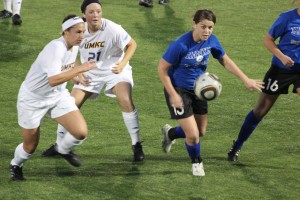 Local rival Rockhurst visited Stanley Durwood Soccer Stadium and Recreational Field (DSSRF) on Friday to take on the UMKC women's soccer team in a spring-session exhibition. The match was the first for the Roos since the early March resignation of Head Coach Anita Rodriguez.
The Hawks held UMKC to a 0-0 draw and often looked like the better squad despite being in a division lower than the Roos. Neither team put together an organized and effective attack and the match was often reduced to a series of throw-ins.
Head Coach Rick Benben currently leads the women's program in addition to being the men's soccer head coach. He stressed that the focus is on individual development for the team during the spring.
"We got a chance to see them play together, to work on some things," Benben said. "But the focus is on the individual, that's where we're looking for improvement."
The Roos played Central Missouri on Sunday before they wrap up the spring season with games against Baker and Drury universities this coming weekend.