Meet a Roo: Jerod Fox
How One Faculty Member Supports UMKC's Student Athletes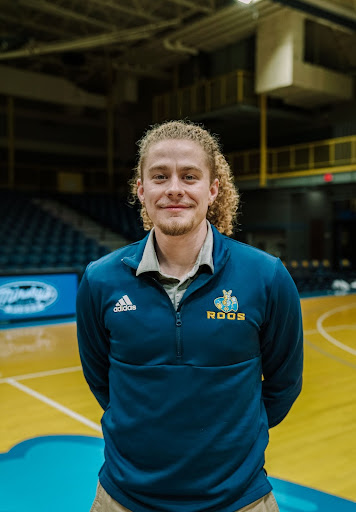 Julia Kapros, Photo Editor, Social Media Manager
December 1, 2022
  Kansas City Athletics Communications Director Jerod Fox is responsible for emailing coaches and athletes, tweeting about the basketball team's latest slam dunk and organizing teams for content creation.
  Fox takes pride in being a vital piece of an ever growing organization and helping student athletes showcase their abilities.
  "I really love the people….at the end of the day, I do what I do for the student athletes," Fox said. "Being able to promote them and give them love for the hours and hours of hard work they put in, to put a product out on the court." 
  Graduating with his masters in higher education from UMKC, Fox maintained the role of Kansas City Athletics graduate assistant for two years prior to his current role as director of communications since August 2021. 
  Fox was constantly surrounded by sports during his youth, his father worked as a basketball coach, making Fox bound for the sports world in his future career. 
  "I grew up in a very athletic family," Fox said. "I always said my favorite sport was whatever season it was at the time."
  Playing tennis since he was in the seventh grade, Fox had the opportunity to continue playing in college for Hastings University in Hastings, Nebraska. 
  Fox has been around the journalism environment since contributing to his high school journalism program, yearbook and newspaper staff, providing him with the skills to write for UMKC's sports today. After high school, Fox went forward with his communication skills and studied broadcasting for his undergraduate degree. 
  With more than 240 student athletes at UMKC, Fox has his hands full constantly ensuring each game, sport,and athlete are promoted and given credit for their hard work. Fox is always running around or on the move making sure each game is covered. To one, it may seem too stressful, but for him, it is worth it. 
  One wouldn't realize the amount of hours a communications director would put in, but the mayhem of Fox's days don't just stop in summer. Summer is when he is able to work the standard 8-5 hours. His phone is buzzing with notifications of what to do during the other 10 months of the year.
  Fox still isn't fazed by the copious amounts of work. He is set on accomplishing his purpose.
  "Happiness is the goal I aspire to," Fox said. "As long as I can find somewhere I can build and grow as a person and I'm not just looked at as an employee, I'll be happy."
  The Kansas City Athletics Department and student-athletes will continue to be grateful for Fox's role and his passion for athletics. One could say, he is already looked at as much more than just an employee, but as a part of the Roo family.