15 Minutes with Mr. KC
Photographing Patrick Mahomes as a College Student
Julia Kapros, Photo Editor, Social Media Manager
November 30, 2022
  Cameras were set up. The red carpet was out. The media was poised and ready for Patrick Mahomes, the King of Kansas City and one of the world's best-known athletes, to make his entrance. I stood there, a 23-year-old college student, holding my camera and ready to let loose on my camera's shutter button.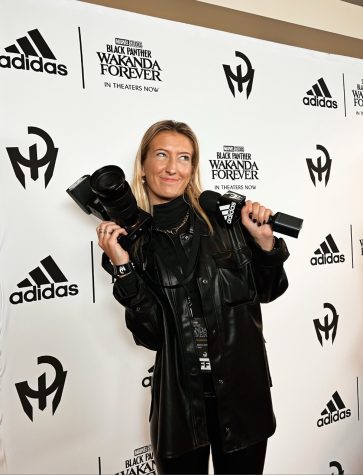 Crouched down and waiting, excitement began filling the room full of kids as the Chiefs quarterback walked out from behind the curtain. Before I knew it, Ward Parkway's AMC Theatre was lit up in flashes, cameras clicking, and children screaming. 
  Standing there with my camera, I was photographing one of the most well known athletes in the world. Surreal? Absolutely.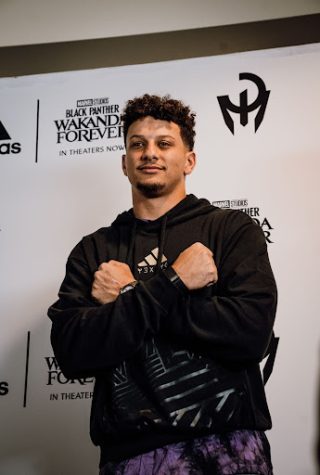 Squished between a sea of predominantly male media professionals, it was a moment where I really had to have confidence in myself and my camera skills, to be assertive and get the shots I came for. 
  What made this experience that much more special is that this wasn't an ordinary group of people who were surprised like it was Christmas morning. These were young individuals a part of the Boys and Girls Club, an organization that provides underprivileged youth with a safer space, helping to point them in the right direction. 
  This event was put on by Mahomes and his "15 and The Mahomies Foundation," which "is dedicated to improving the lives of children." These youths were given the chance to sit in the theater with Mahomes and be the first to watch Marvel's new "Black Panther: Wakanda Forever."
  Never being around an NFL athlete as well known as Mahomes, I didn't know what to expect in the way he would interact with his fans. Mahomes not only took his time to give every fan an autograph or photo opportunity, he thanked us all with a big smile on his face and cracked a joke here and there. 
  Being a part of an event hosted by a superstar NFL quarterback was not only an unforgettable experience, but one that gave me hope that being a female in the sports media industry is possible.